Responsibilities
We are Blaize.
Blaize is an IT company engaged in research and development in the field of blockchain technology.
Our primary value and pride is our team. It consists of professionals united by a common idea and interests with a high level of expertise in their field. We love our work and are always ready to help each other. We are looking for a Senior Solidity Developer.
– code creation (with full unit-tests coverage and documentation)
– preparation of the contracts architecture
– consultation of backend and frontend teams for correct contract calls (correct ABI usage, smart contract flows, consultations for Subgraph and APIs creation)
– code review (within the project and cross-review at other projects)
– research for protocol integration points and research for target protocols used in the system
– work with RPC providers, NFT metadata, decentralized storage
– periphery JS scripting and snapshotting based on ethers and web3
Any city/country
Full-time
Required Skills:
Knowledge of Hardhat: compilation, unit testing, deployment / mainnet-fork tests, scripting and snapshoting / work with addons and plugins (coverage, gas-reporter, flattener, etc)
Work with alternative framework: Brownie or Foundry
Work with RPC providers (Infura, Alchemy, Moralis)
Work with NFT and metadata storage
Free usage of ethers and web3
Understanding of ERC20, ERC721, ERC1155, ERC666, EIP721, EIP2612
Work with Merkle trees and Merkle proofs
Understanding of storage structure, proxy contracts and principles of upgradeable contracts.
Work with DeFi: Uniswap, Compound, Aave, Curve, Yearn (direct interaction and/or integration)
Core contracts architectures: tokensale, vesting (linear MasterChief and epochs staking), liquidity pools, vaults
Understanding of best practices for secure development (standard vulnerabilities and security tools)
Basic understanding of the EVM principles of work and Eth node structure
Will be a plus:
fuzzy-testnig
Dune analytics
Subgraph
We offer:
Professional and career growth;
Best team;
Flexible working time;
office space with comfortable work conditions or remote work.
Have some Questions?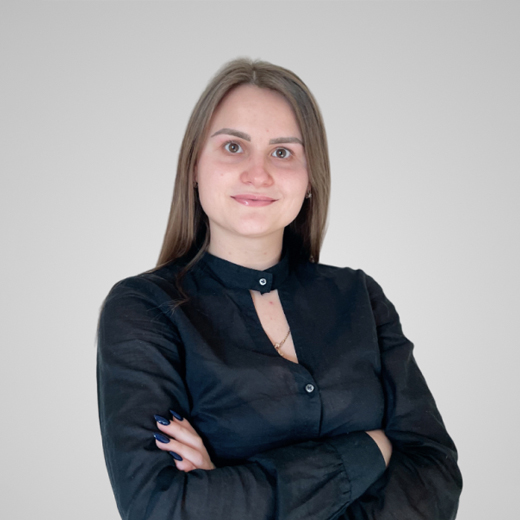 Daria Shcherbyna
HR Generalist
More Jobs from Blaze
Haven't found a vacancy that
suits you?