We stand for piece and integrity.
We do not support russian aggression and don't work with russian companies.
#standwithukraine
Job description
We are looking for an enthusiastic and passionate software engineer, who isn't deterred by difficulties.
If you love to work with a wide specter of technologies and languages and want to learn a lot about blockchain technology then Solidity developer job at Blaize is the right choice!
While holding this position, you will be able to discover how to build applications on different blockchain platforms and then adjust this knowledge in various projects for such blockchain giants as Everstake, Remme, Solana, and many others.
Fill any of the forms below and welcome to our team!
Ukraine: Kyiv
Full-time
Required Skills:
1+ years of working experience with Solidity;
Expirience with Ethereum Smart Contracts,Web3.js, Truffle,Smart Contracts Unit Testing;
Expirience with PostgreSQL / MySQL / MS SQL Server/ NoSQL.
Will be a plus:
experience with C++ or NodeJS;
Expirience with Docker, Kubernetes — WebSockets, HTTP(s) (REST, JSON-RPC 2.0, gRPC), TCP;
English: Intermediate+.
We offer:
Professional and career growth;
Best team;
Flexible working time;
office space with comfortable work conditions or remote work.
Have some Questions?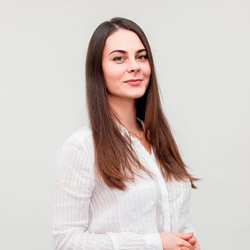 More jobs from Blaize
Haven't found a vacancy that
suits you?