Job description
We are Blaize.
Founded in 2016, Blaize company covers all areas of blockchain and crypto development, including projects in DeFi, NFT-related products, blockchain ecosystems, protocols, and smart contracts. We have completed over 70 successful projects in different areas of blockchain development and conducted more than 110 smart contract audits.
Our value and pride are our team. It consists of professionals united by a common idea and interests with a high level of expertise in their field. We love our work and are always ready to help each other.
We believe that a company can only be successful when each one of its employees strives for professional and personal growth. So we encourage freedom of thought and creativity of our people and are open to new ideas and visions generated by them.
Our mission is to create a convenient decentralized world of finance where everyone is the owner of their assets.
Our team is constantly growing, and we are currently looking for a CМO.
Required Skills:
Fluent English.
Strong Leadership and interpersonal skills, ability to work and lead independently.
Excellent verbal and written communication skills, allowing you to deliver complex information clearly to your colleagues and through marketing material.
At least 5+ years of experience in the marketing function, including at least two years in an IT Blockchain company or IT outsourcing company.
Solid experience with managing omnichannel marketing strategy (SEO, email marketing, website development, SMM, PR, Ку etc.).
Proven experience successfully managing paid acquisition budgets across multiple channels to drive revenue growth.
Proven skills in working with contractors, setting tasks, forming an expression of requirements, and acceptance of work performed.
Experience building partner/referral network.
Will be a plus:
Experience in Blockchain domain.
We offer:
Competitive salary, based on your expectation and results of a Technical Interview.
Opportunity to work in a fast-growing company with significant projects in the crypto&blockchain sphere!
Modern technology stack along with proficient working devices.
Opportunity to learn from experienced professionals&have talented people around.
The place where you can share your creativity and enhance your current skill set.
We pay for 20 working days of vacation per year.
10 days a year we pay sick leave without a doctor's certificate. With a doctor's certificate, we pay for an unlimited amount of days.
The company also has additional days off in case of emergencies, weddings, and a child's birthday.
We have a flexible start of the day + 8 working hours and an hour for lunch.
You can choose a convenient format (office/remote/mixed), our offices are located in Kyiv and Dnipro.
Internal lectures, workshops, knowledge sharing, and participation in conferences.
Сompensation for focal courses.
Free English Lessons with a native speaker.
Have some Questions?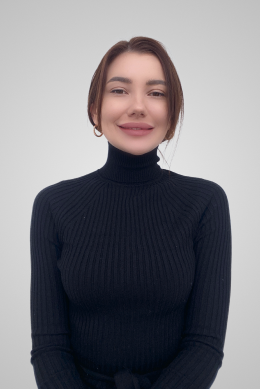 Anastasia Tkach
Recruiter
More Jobs from Blaze
Haven't found a vacancy that
suits you?