September routes: Blaize in UK & USA
In September Blaize team took part in a number of great and interesting events all over the world literally. And here is a brief report about each of them.
London DeFi Summit
DeFi Summit London is a two-day community conference connecting DeFi entrepreneurs, liquidity providers, academics, investors, economists, regulators and others who are looking to learn and network in the Decentralized Finance – that are financial services that are built over the blockchain – industry. Through presentations, round table discussions and demos attendees explored the current opportunities and challenges in the space.
The summit was held at Imperial College with a very home-like atmosphere. The event wasn't advertized at all, so mostly the industry's insiders gathered there, almost everyone knew each other. All that added much to great networking.
Blaize representatives were there too, since we believe in the bright future of decentralized finance and the DeFi-related projects, although the industry's volumes are not that exciting yet.
It was discussed that most likely the main driver of the DeFi adoption will be business. Attendees of the London DeFi Summit have discussed what should be changed and/or added so the business will start adopting the technology as well as the proposed solutions.
Thus, a lot of projects are working on creation and implementation of various decentralized financial instruments that somewhat resemble the traditional once (except for their centralized nature, of course). Also a number of traditional financial companies introducing so-called zero-knowledge proofs, etc.
The question of DEX (decentralized exchanges) have been discussed, and Maker DAO has presented its new Oasis DEX.
Another note: looks like the startup market is departing from ICO-driven to more and more venture capital-driven. We began to notice this by providing blockchain development for startups.
Plus, a good sign for the industry is the emergence of teams that have successful tracking in previous projects like Centrifuge, Argent etc. Some teams are even reinvesting their profits from their previous projects into the creation of the new ones.
One of the problems that new projects inevitably face is that their core dev teams normally consist of few members, who normally study their subject deeply for several years and then start developing upon that gained knowledge and/or conducting research. But after the MVP it turns out that it is quite hard to scale the project because one needs highly specialized professionals for that, that are really hard (or simply impossible) to find and acquire.
That's exactly where companies like Blaize come to help. We already gathered a very good team of developers who knows blockchain and decentralized technology in-depth and from the practical point of view. But also we have a very diverse experience, something that an 'ordinary' developer, who normally specializes in just one ecosystem, would lack.
The first Tezos Hackathon in Eastern Europe
The first in Eastern Europe Tezos hackathon gathered 14 best teams that competed for a prize foundation of $10K.
The Blaize team of four members headed by Alex Korobeinikov, Blaize CTO, has been developing a marketplace for NFT tokens trade. NFT is a non-fungible token type that can represent any unique digitized asset, like, for instance, an art masterpiece, an automobile, a real estate object, a ticket for an event, in-game objects, various virtual articles, etc. Our team provides services for NFT development of various types.
In our work, we used the NFT standard developed by Stove Labs, and received a special prize of $500 from the company.
Also, Blaize team received the audience sympathy prize of $1000.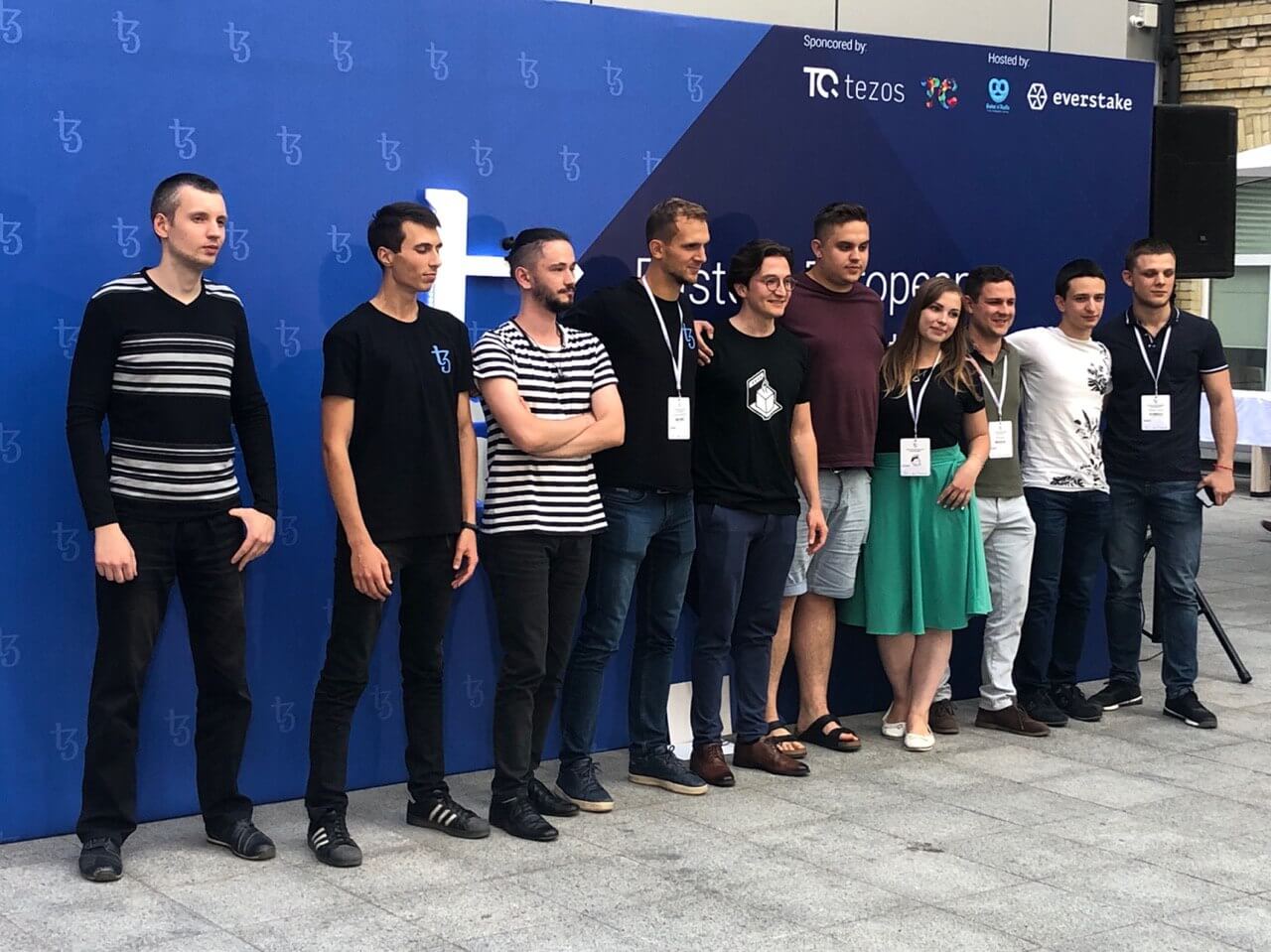 A number of other interesting technical solutions were presented at the hackathon: a compiler for the Tezos smart contracts, a marketplace for tickets, etc.
We love taking part in hackathons. First of all, because it's a great place to test one's skills and teamwork while dealing with an interesting challenge. And also because our guys never come back without a prize.
Read Also: Auditing smart contracts
Blockchain UA, the largest blockchain event in Ukraine
Blockchain UA is the largest blockchain-related event in Ukraine that was held during the Kyiv Blockchain Week in September. It attracted a couple of thousands of participants and dozens of projects from Ukraine and of course international ones as well.
Inspiring presentations, great speakers, interesting panel discussions, a lot of friends, partners, and clients -– that was Blockchain UA for us this time.
It was especially great to see the presentations of the projects that Blaize was a part of (we're an outsourced development company, remember?) It is awesome seeing your work to become a part of something big. We succeed when our clients succeed.
Ukraine is truly one of the main world centres of blockchain and crypto industry, and we are proud to be a part of it.
New York. Blockchain Tech Summit
Step-by-step New York is becoming one of the venture business centres for IT, including blockchain. A number of startups and venture funds from the Valley have already moved there, and to Boston as well. Also, EOS and Tezos communities are quite well developed there.
It is worth describing Tezos network and community in particular. It seems that SEC is pretty hard on chasing ICO projects accusing them of issuing unregistered securities without conducting correct KYC procedures of their token holders. So Tezos had an interesting court case involving their Swiss-based CEO. The whole story played an overall positive role for Tezos, making them stronger. As a result, Tezos became one of the most regulated networks in terms of legal staff, and that could significantly contribute to their adoption.
They have implemented a highly functional smart contract language, that is much more backdoor and foolproof than, for example, Solidity.
Tezos Foundation has first created favourable conditions for its validators (bakers) and now started projects onboarding.
Chorus, for instance, is realizing a Tezos-based infrastructure for intercar communication on the road, for automatic parking and highway tolls payments, etc. in the future they are planning to introduce a fee for lane conceding and other cool innovations.
In general, more and more customer-oriented businesses are looking into using such blockchain ecosystems for payment processing, user identification and other functionality and services.
This is only a small fraction of information that Blaize team members absorbed while visiting the Blockchain Tech Summit and wanted to share with you. Overall, it was a very info-rich gathering. Definitely worth visiting next year.
More exciting stuff to come in October
Indeed, in October our team representatives will visit Ethereum DevCon5 in Osaka, Japan, and other upcoming events.
And of course, stay tuned for our reports!