Tokenomics for crypto games: how to develop solid economy for GameFi
Even though GameFi is still an infant industry, its market worth has recently exceeded $14B and is estimated to grow to $50B by 2025. Many founders choose it simply due to unprecedented potential, easy user engagement, and pretty fast community growth.
New crypto games emerge almost every week, but only a few survive. One of the main reasons for that is poorly developed tokenomics – the structure of the project's economic and value systems; simply put, token economics.
Tokenomics is one of the fundamental elements of any blockchain-based project, including games. Investors pay special attention to this chapter of the project's Whitepaper and mainly assess the game based on its tokenomics design. And it's no surprise since it describes the correlation between in-game NFTs and the native token, which directly influences a player's income.
Today, we'll share our experience and knowledge in this area, which will hopefully assist you in designing tokenomics for your crypto game. So buckle up, and don't forget to save this article for easy access!
Basic Tokenomics models
Tokenomics and cryptocurrency are inextricably linked and very popular today. Since the blockchain emerged and Bitcoin was introduced, projects have mostly used deflationary tokenomics models. Such models assume a fixed gamefi token supply with less and less money issued over time. Many famous cryptocurrencies are governed under this model, including Bitcoin, Litecoin, Solana, Tron, and others.
On the other hand, you can choose an inflationary tokenomics model when building tokenomics for your crypto game. In this case, tokens will only increase in supply, but certain mechanics will help you limit inflation or even create a deflationary system. Good examples of such a crypto tokenomics model are Ethereum, Polkadot, and Dogecoin, which don't have the maximum token supply.
Read Also: How to Launch a Project on Polkadot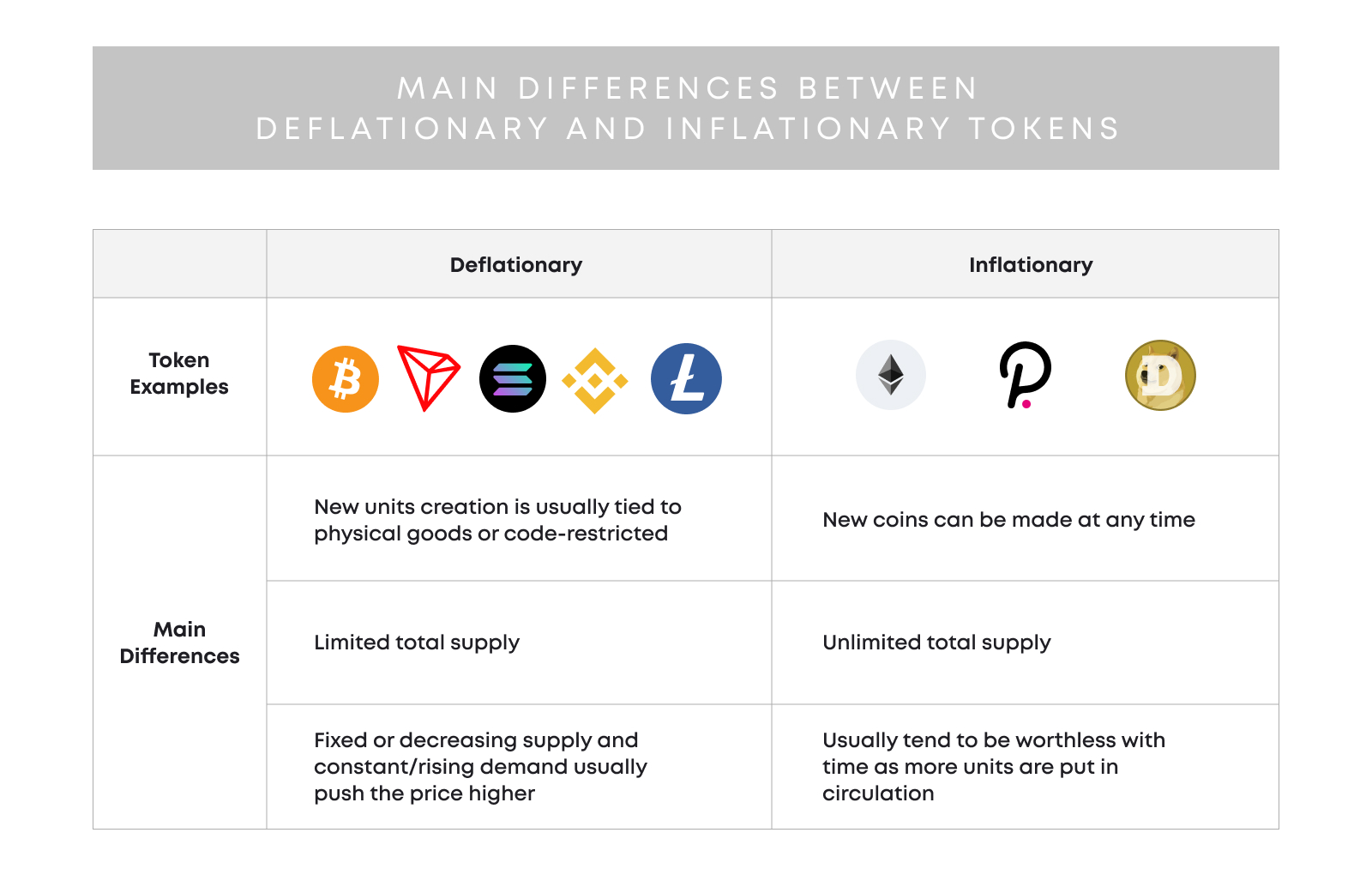 There are several types of deflationary and inflationary tokenomics models, including the ones that maintain certain features of both. Here is a brief list of the key models of crypto gaming tokenomics:
Basic deflationary model (BTC, XRP, SOL) – The project releases a fixed number of tokens at a token generation event. Such a limited supply naturally creates demand, driving investors to purchase.
Buyback and burn (BNB) – The project buys tokens back from holders and burns them, removing them from the supply and balancing the economy.
Burn on transaction (SAFEMOON) – The protocol creates a special tax on transactions that is written in its smart contract. It burns the tax, removing it from the total supply, or distributes it among token holders.
Net deflationary model (CRV) – Although there is no maximum token supply, the burn rate from taxes or buybacks fully compensates the issuance rate and creates demand.
Since there is no such thing as the "right" GameFi economy, you can freely choose the tokenomics of your game that will fit the protocol best and benefit all parties.
Essential token mechanics
To build a powerful tokenomics for a blockchain game, you should know all its elements and how they interact with each other. Moreover, it is crucial to understand what mechanics are used to create, route, and alter tokens, their advantages and flaws. Most probably, you already know that any crypto game functions with the help of smart contacts, similar to other blockchain-based systems. But what about the rest of the mechanics?
For you to take a deeper dive into this topic, we've decided to share all details of token mechanics and its elements, even the simplest ones. If you feel like you have extensive expertise in this field, feel free to skip some parts of this chapter.
By the way, our team of experts offers comprehensive token development services, covering everything from token creation to post-launch maintenance and support.
1. Coins & Tokens
The notions of "coins" and "tokens" are pretty close in the blockchain industry and can often be used interchangeably. However, they might still imply different things, so let's define them once and for all.
A coin in the blockchain is a storage of value, digital money of some kind. Meanwhile, a token represents something a holder can do or own; it is mostly associated with a certain utility or security. Another distinctive feature that will help you tell coins from tokens is a blockchain – coins have a native blockchain, while gamefi tokens do not.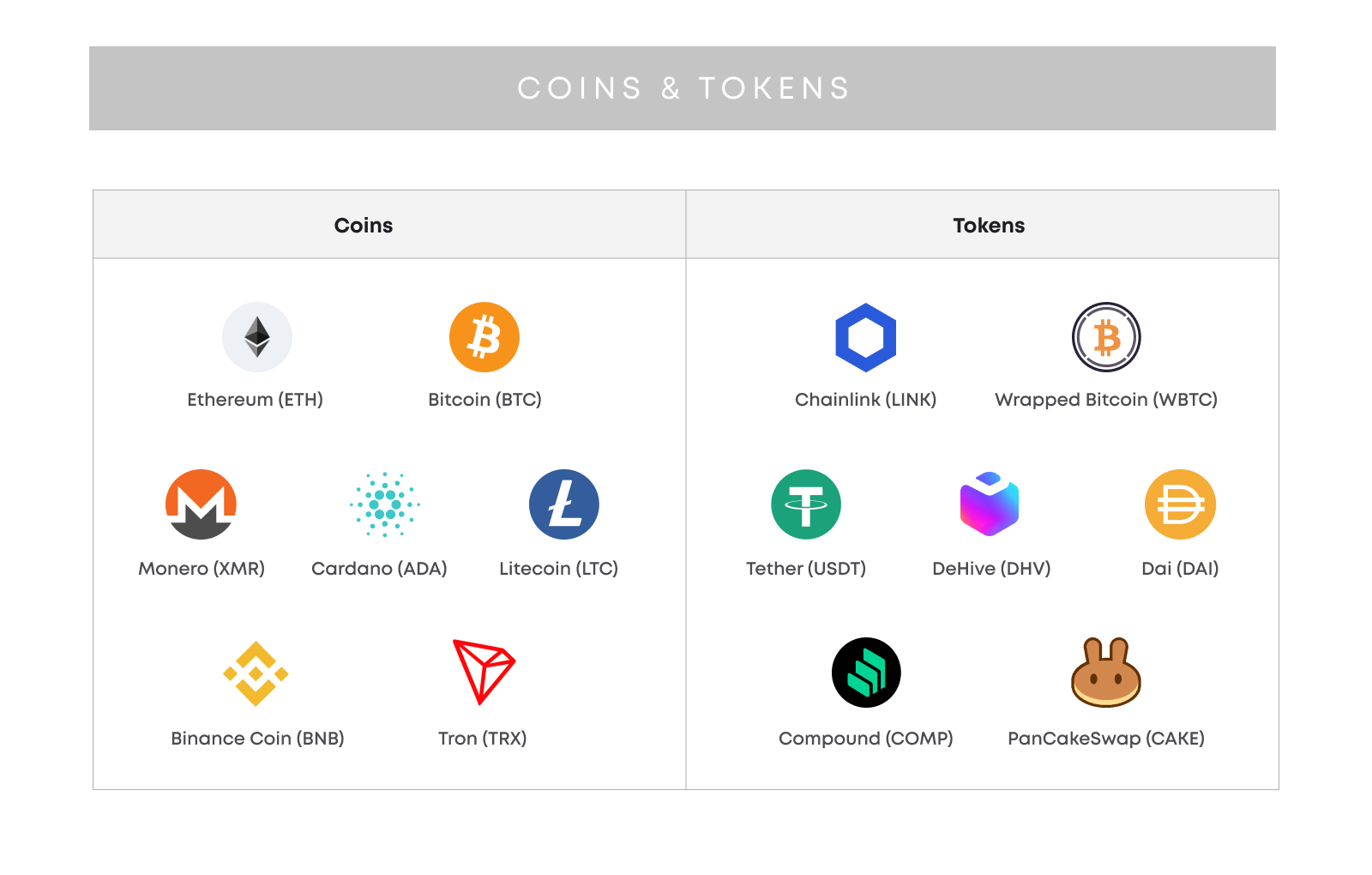 There are many types of tokens, including the following:
Utilities – tokens that can be exchanged for some utility, service, or product feature.
Securities – tokens that act like equity shares, granting their holders a voting right for the company governance and/or proceeds.
Non-fungible tokens (NFTs) – unique assets, including pieces of art, digital land, game awards, etc. NFTs play a huge role in tokenomics for blockchain games. By the way, our team provides NFT development services.
2. Fungibility
Fungibility is the feature of a token that defines how it can be exchanged with other tokens. It is one of the basic attributes of any asset, which simplifies trade and enables token swap.
According to this criterion, all tokens can be divided into fungible and non-fungible (NFTs).
Fungible tokens are the ones that can be easily exchanged without loss of function or value. On the other hand, non-fungible tokens are unique assets that store specific metadata that makes them distinguishable from other tokens and eliminates the possibility of a token swap.
Due to their essence, fungible tokens make great in-game currencies – users can trade or spend them anytime. Meanwhile, NFTs are usually used as gaming items like armor, avatars, weapons, equipment, etc. Since they are non-fungible, users can't exchange them for other NFTs, but only sell on a secondary market or a built-in marketplace. You may also like NFT platform development guide.
3. Buyback and burn
The buyback-and-burn mechanism in the crypto industry involves the project team buying tokens back from token holders and burning them. This way, tokens are removed from the total supply, and the game economy is balanced out.
The whole buyback-and-burn process is encoded into smart contracts, similar to all other aspects of blockchain-based games. Thus, it is performed automatically.
4. Minting
Minting is a process of new token creation. This can include generating new tokens in Proof-of-Stake protocols, preparing the initial token supply by the protocol owners, or emitting tokens during tokensales or in-game events.
In the case of an NFT, minting means publishing the token on the protocol.
5. Issuance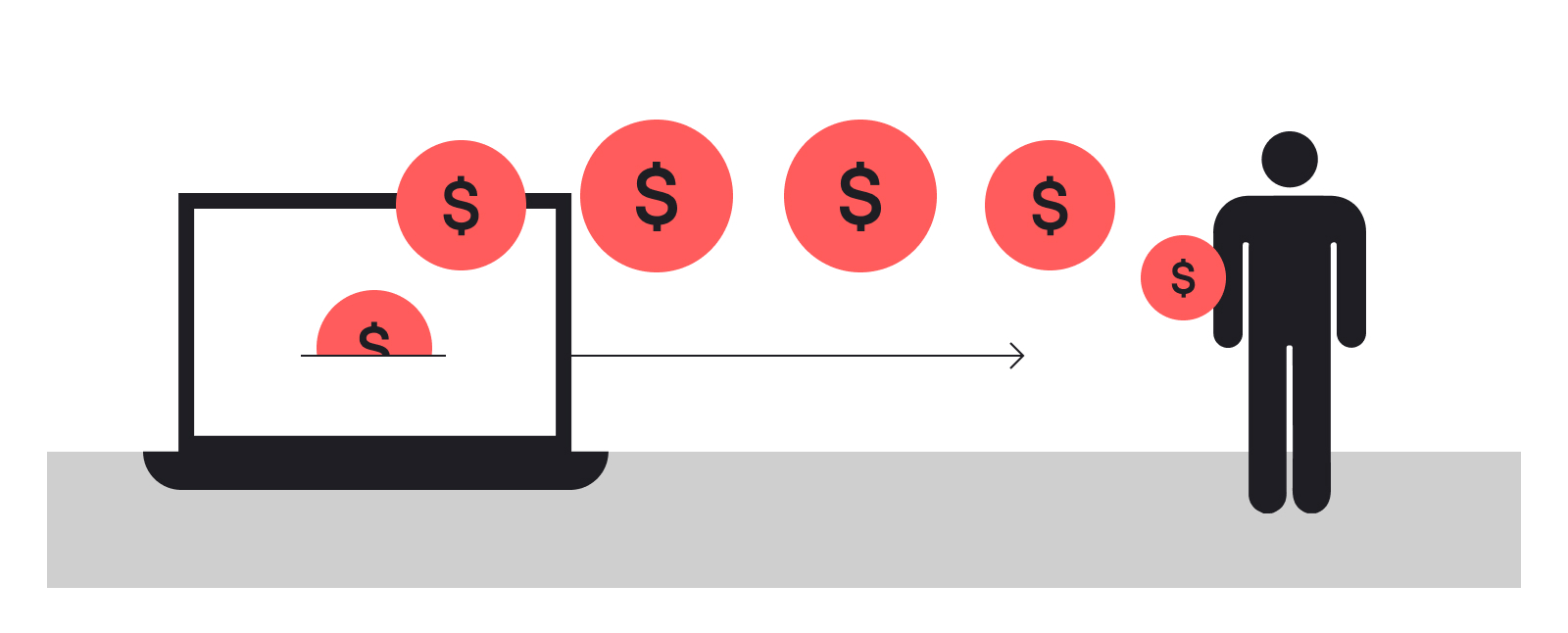 Issuance is the mechanics of distributing tokens. This might include various forms of allocation: a pre-sale, an IPO, direct purchase by players, rewards, Airdrops, etc.
It is a common practice to include a vesting period when issuing tokens. This way, users won't be able to dump them right after buying, which will help stabilize the demand and token value.
6. Burning
Burning is the process of permanently taking the tokens out of circulation, often by completely destroying them. It is a frequent part of the tokenomic mechanics for crypto games that are built with the inflationary tokenomics model in mind since it regulates the overall token supply and prevents the token value from a rapid drop.
There are two main approaches to burning tokens:
by reducing the token supply automatically with the help of a smart contract;
by sending tokens to an inaccessible wallet.
The first, automatic, way is much more common since it enables easier protocol maintenance.
7. Inflation
In the blockchain industry, inflation is somewhat different from traditional finance. It still happens when the total supply of tokens is increasing due to constant minting or issuance. However, this does not mean that the token loses its value – such a dynamic is controlled by the special mechanics of crypto tokenomics.
8. Staking
Staking is the process of locking a particular amount of tokens in a wallet to help build blocks and earn rewards. It is an integral part of any blockchain with the Proof-of-Stake consensus algorithm since it allows for validating blocks and decreasing the total tradable supply of the token, thus, increasing its value.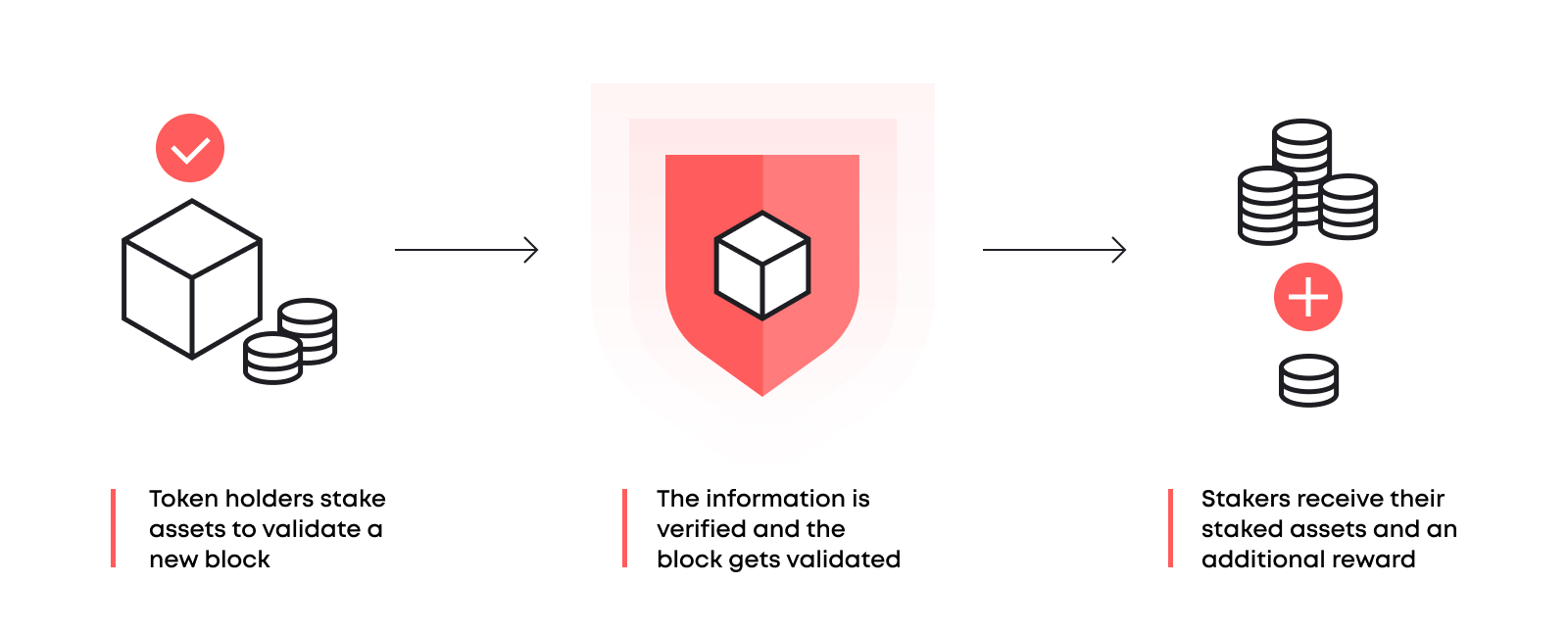 While in DeFi, staking is essential to enable block validation by those who are interested in the protocol the most, crypto games use it for a different reason. In games, staking is often used to distribute the revenue among players.
9. Treasury
Treasury is a specific address that accumulates and distributes tokens according to the rules encoded in the smart contract.
There are various methods of token distribution when it comes to treasuries in crypto games:
Staking – Users stake tokens to get a share of the tokens from the treasury or at least a chance of a share.
Player rewards – Users get tokens for their in-game achievements like winning a contest, scoring in a race, etc.
Team remuneration – Advisors and developers can get their share of the tokens from the treasury, but such mechanics have to be specifically indicated in the project documentation.
Liquidity – The treasury may provide tokens to ensure liquidity, regulate token price, and prevent price manipulations.
10. Voting
Voting is an essential part of any decentralized system, including crypto games. Many platforms allow players to participate in the protocol's governance by voting for particular changes with tokens. In such a way, token holders can influence the development of the game, treasury mechanics, community support, etc.
When you design tokenomics for a game, you should consider enabling particular community governance mechanics as it will help you turn the game into an autonomous organization and develop it in the players' best interests.
11. Pegging
Pegging means tying the value of a token to any other asset, including cryptocurrency, fiat, and even real-world commodities such as gold. Besides, it can involve pegging a token at a certain price (e.g., $0,25, $1, $50, etc.).
You might have heard that USDT stablecoin is pegged to USD 1:1. This means that the price of 1 USDT will always be 1 USD since the value to crypto is tied to fiat in this case.
Currencies in crypto games might also be pegged to other assets because such a practice removes the aspect of volatility, allowing for stable price regardless of external conditions and certain predictability when it comes to trading.
12. Wrapping & Bridging
Both wrapping and bridging are ways to move assets from one blockchain to another without too much stress. With the help of a bridge, tokens can be locked on one blockchain while their new, wrapped version is created and later traded on another chain.
For instance, wETH (wrapped Ethereum) is an ERC-20 compatible version of ETH that can be used on other chains. wETH is pegged to ETH price, so their values are tied.
The motivation of participants in crypto games
When it comes to crypto games tokenomics, the team has to think through the motivation for several participants, not just gamers like in traditional systems.
Here, we are working with three vital parties: players, developers, and investors. In order for a crypto game to function well and retain the necessary balance, all parties have to be encouraged and remunerated on a constant basis.
For players
Traditional games were created and are still developed mostly with a recreational aim – players are motivated by the gaming process itself. However, it is not the case for crypto games.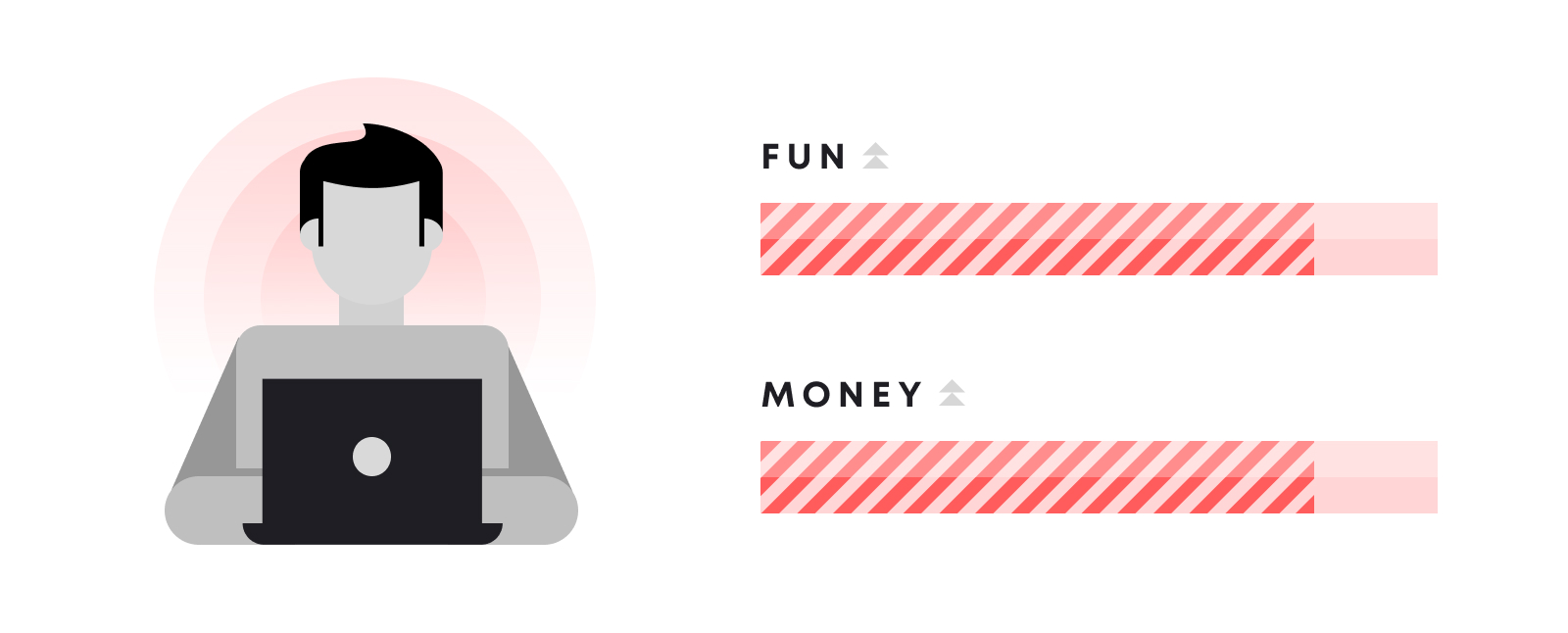 Crypto games have introduced a double motivational system:
Play-for-Fun (P4F) – Similarly to traditional games, players are motivated by leisure. It is fun for them to spend time playing a game, which is clear from the name of this type of gaming. Commonly, users also have to spend money buying the game and even while playing it.
Play-to-Earn (P2E) – In this kind of games, players have monetary motivation in the first place. As they spend time in the game and achieve particular milestones, they get rewarded with tokens, which can be spent on in-game items, traded, or exchanged and withdrawn in fiat currencies.
The most interesting part is that while P4F games' success depends on the game mechanics, the plot, and many other factors, P2E games gain popularity with the help of players. Due to the fact that players' income depends on the success of the game, P2E crypto games regularly become viral and grow the community much faster than traditional ecosystems.
And yet, there are also two types of games within the P2E sector that differ in the motivational mechanics. These are commodity grind games and content generation ones.
Commodity grind – Players need to grind the game to create commodities and earn this way.
Content generation or Create-to-Earn (C2E) – Players create new content in the game, thus developing the ecosystem and earning rewards. Also, they might generate external content, such as streams or videos, to spread the word about the game.
For developers
The second actor in any crypto game is developers, internal and external. These are key infrastructure participants since they build the game, making it appealing to players and investors.
Internal developers – The ones that are directly involved in the development process on a daily basis, including the main team, contractors, or participants of the DAO. Their motivation is pretty understandable since they mostly earn a salary and/or rewards based on their performance and game development roadmap.
External developers – These are programmers who are not employed officially but motivated in a different way, usually by special monetary rewards or community recognition. Such participants are harder to motivate than internal developers, but they are also crucial to any crypto game because they make it truly decentralized.
For investors
When it comes to building tokenomics for GameFi, most projects rely on investors in the first place, forgetting about other parties. However, this is probably the most diverse and, at times, overlapping role in the ecosystem.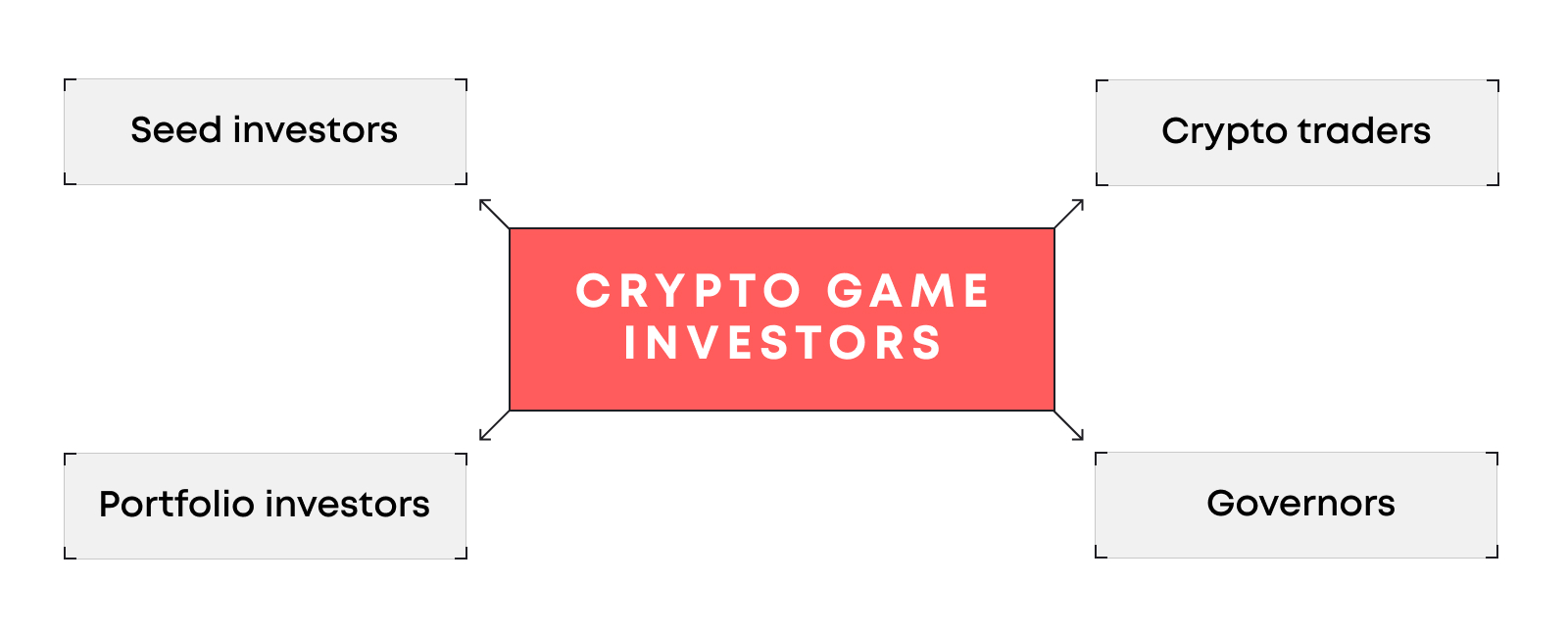 The thing is that players and developers can easily become investors, too, if they believe in the product and want to support the game development process. Their motivation, though, is pretty easy to understand – they expect to get profit and increase their capital.
There are several main types of crypto game investors:
Backers (Seed investors) – The ones who come early to back the development of the game and help it get released to the market.
Portfolio investors – Those who are building and diversifying their portfolio. Such investors usually choose a project based on its performance and potential.
Governors – The ones who invest in a game to have a word in its development and distribution.
Crypto traders – Regular investors who are not that much interested in the game itself but rather in token value. Mostly, they are less picky when choosing assets, but they still perform research before investing.
Different types of tokenomic systems
Even though crypto games are still quite a new industry, there are already several types of their tokenomics design. Let us explain in more detail.
Play-to-Earn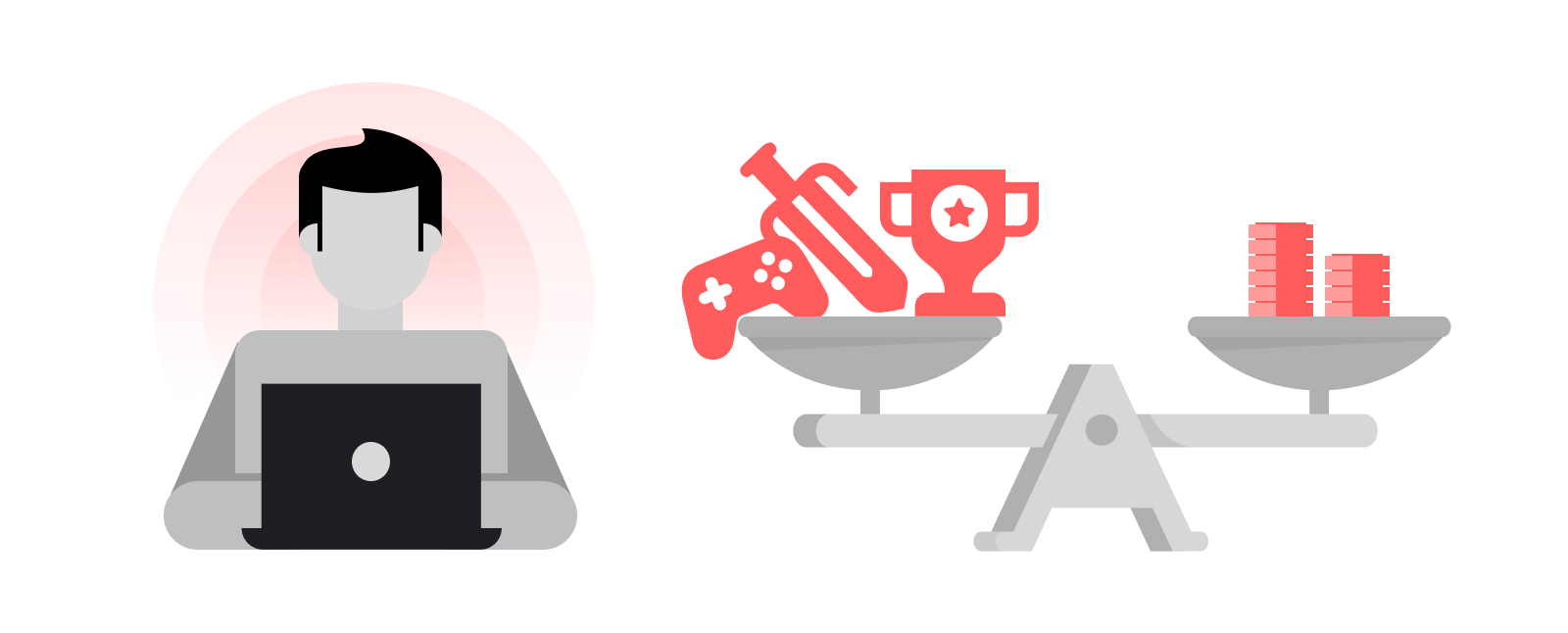 As we've mentioned before, any P2E game is based on motivating players with certain rewards. These can be native in-game tokens or NFTs, including characters, armor, weapons, pieces of land, and other equipment that can be used during gaming.
Usually, P2E players are best motivated with the help of tokens that can be easily exchanged for fiat currency or other assets, so liquidity is the key.
Voting and Dividends
Governance tokens are a common thing for crypto games. They enable voting on the game development process, introducing new features, characters, and locations, changing game mechanics, etc.
Often, governance tokens also allow for dividends, acting similar to traditional equity shares. In this case, token holders receive regular passive income from the treasury.
Tokensales
Pre-sales and IPOs or ICOs are a form of fundraising that allows the core team to receive funds for game development and investors to get tokens of a promising project.
During a tokensale, two types of tokens are usually distributed: governance and utility ones.
Governance tokens grant voting rights and allow token holders to participate in the decision-making process.
Utility tokens offer some in-game utility while not providing any shares of the company or voting rights.
External sources
Different exchanges, dApps, and NFT marketplaces might also play a role in the tokenomics for games. If game tokens are listed on any other external platform, traders might purchase them, thus adding to the liquidity and increasing token value.
How to develop the economy for your crypto game?
So, wondering how to build a crypto game economy? While the journey can be intricate, diving deep into resources like our how to create a p2e game guide can be a good starting point. However, the process involves multiple stages and is best left to experts. We strongly suggest enlisting an experienced team to navigate the nuances seamlessly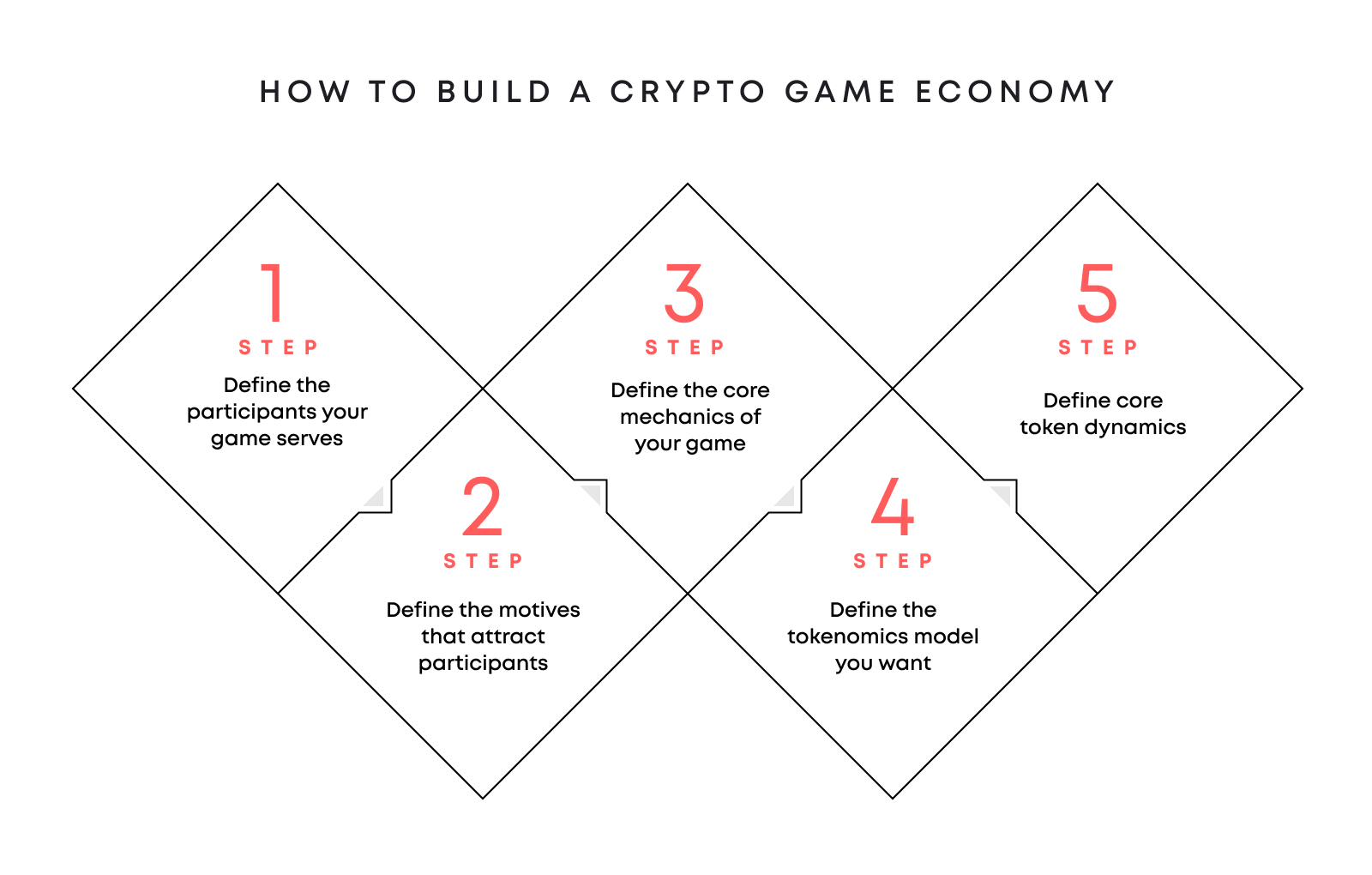 Step 1. Define the participants your game serves
First, think through all the parties involved in the ecosystem. Will you engage external developers? What kind of investors would you like to attract, and how exactly are you going to keep them interested?
Step 2. Define the motives that attract participants
Second, as you know potential participants, you should define their motivation. What needs and wants do they have? How will you meet their expectations? How will you keep them involved in the gaming process when it is released?
Step 3. Define the core mechanics of your game
Next, you should think about the game mechanics in detail. How will your game stand out among competitors? How will you maintain and adapt the game if necessary? How will you grow the community, and which mechanics are you going to use to make it popular?
Step 4. Define the tokenomics model you want
Then, choose the tokenomics model and token functions within your game ecosystem. Will you use governance tokens or only utility ones? What will be the total token supply, if any? How will you distribute tokens, and how will you motivate the community to buy them in order to raise funds?
Step 5. Define core token dynamics
Finally, your goal is to decide how to add tokens to the general circulation supply and get them out of there.
You should clearly establish the ways for players to get tokens and spend them. If there are a lot of tokens in the market and players have no way to spend them, the token rapidly loses its value as there is no reason to hold it or buy it. And vice versa, If there are not enough tokens in the market, the supply is concentrated mostly in whales' wallets, and you lose the community.
As you can see, there are a lot of questions to be answered when building tokenomics for a crypto game. If you have little experience in this area, it is much easier to hire contractors who specialize in such processes and who will help you develop a popular and profitable game.
By hiring the Blaize team, you will solve all the complex issues fast and easily. Our company has over five years of experience in the blockchain industry in general and the crypto games segment in particular. We can develop the economy for crypto games, a blockchain-based protocol for a game, smart contracts, token mechanics, and so much more. Check out our fantasy basketball app development case study to learn more about how the Blaize team works and what to expect.
Final thoughts
Creating tokenomics for games is a complex and rather long process that requires experience and attention to detail. All the game mechanics, participants, and their motives will directly influence your game tokenomics and, thus, its performance in the market.
To build a successful game that is popular among players, developers, and investors, we highly recommend you hire an experienced contractor who will think through the whole ecosystem and save you a lot of headache down the line.
Reach out to the Blaize team to get a free consultation and get deeper knowledge on this topic. Together, we'll build a crypto game that will go viral!
Frequently asked questions
What is crypto gaming tokenomics?
Crypto games tokenomics is one of the fundamental aspects of any project, which describes the supply and demand of the game. It includes the correlation between in-game NFTs and the native token, overall token supply, various token mechanics, the encouragement system, and so on.
What kind of tokenomics for games should I choose?
When building tokenomics for your game, you should consider many factors, including the key participants of the ecosystem (players, developers, investors), their motivation, core mechanics, etc. Only after defining all these aspects will you be able to develop the tokenomics that would fit you best and help your game succeed.
How to build a crypto game economy?
To develop tokenomics of your game, you'll need to go through several steps:
Define the participants your game serves
Define the motives that attract participants
Define the core mechanics of your game
Define the tokenomics model you want
Define core token dynamics
How to find an expert in building tokenomics for crypto games?
Designing a tokenomics for your crypto game is pretty challenging, so hiring a specialist is a good idea. You can turn to Blaize, an experienced team of blockchain developers who have worked with various crypto projects, including crypto games ecosystems. The team can help you with tokenomics, smart contracts, a blockchain protocol, etc. Get a free consultation to find out more!