Job description:
We are Blaize.
Blaize is an IT company engaged in research and development in the field of blockchain technology.
Our primary value and pride is our team. It consists of professionals united by a common idea and interests with a high level of expertise in their field. We love our work and are always ready to help each other.
We are looking for a Lead Blockchain Developer for next tasks:
Work with the team daily, ensuring teammates have a clear understanding of deliverables and have a comfortable work environment.
Manage the project delivery in an agile manner.
Write scalable, reliable, and high-performance code.
High unit and functional testing coverage.
Pure CI/CD flows from local to production.
Outside-the-box architectural solutions.
Any city/country
Full-time
Your profile:
At least two years experience as a Team Lead.
At least 5 years of server-side development experience.
Solid Node.js, Express.js experience.
Solid TypeScript, PostreSQL, Keycloak, Nginx, Docker, Microservices experience.
Experience with Unit and Functional testing.
Strong writing and speaking skills of communication in English.
Will be a plus:
Experience with Ethereum platform and Solidity.
Demonstrated excellence in software engineering; including exposure to distributed systems, scalability, and algorithms.
We offer:
We have a flexible start of the day + 8 working hours, and an hour for lunch.
You can choose a convenient format (office/remote/mixed), our offices are located in Kyiv and Dnipro.
Internal lectures, workshops, knowledge sharing, and participation in conferences.
Сompensation for focal courses.
Free English Lessons with a native speaker.
We pay for 20 working days of vacation per year.
10 days a year we pay sick leave without a doctor's certificate. With a doctor's certificate, we pay for an unlimited amount of days.
The company also has additional days off in case of emergencies, weddings, and a child's birthday.
Competitive salary, based on your expectation and results of a Technical Interview.
Opportunity to work in a fast-growing company with significant projects in the crypto&blockchain sphere!
Modern technology stack along with proficient working devices.
Opportunity to learn from experienced professionals&have talented people around.
The place where you can share your creativity and enhance your current skill set.
Have some Questions?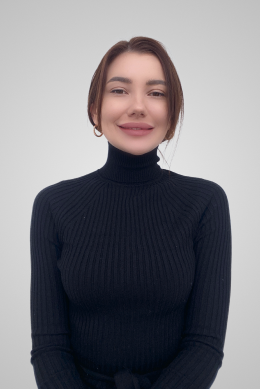 Anastasia Tkach
Recruiter
More jobs from Blaize
Haven't found a vacancy that
suits you?