BUILDing for a Startup vs. Developing for a Big Company
Blockchain technology is gathering more attention, so bigger amount of people want to integrate it to their businesses. In this article we are going to examine pros and cons of blockchain integration in terms of a startup or a big company.
Technology overview
Since its emergence, blockchain technology has undergone several developmental stages, not to mention phases of speculative hype. This trend shows no signs of abating any time soon. In fact, the blockchain industry is still very much in its infancy and continues to rapidly evolve and diversify.

What started as a supportive technology for bitcoin (and, quickly, other cryptocurrencies) has evolved into a distributed, trustless platform to build and run decentralized applications on top (Ethereum, EOS and other Ethereum-like projects). Applications that could have a great many non-currency applications, while preserving all the advantages that blockchain technology introduced in the first place.

In the early stages, there were only a handful of visionaries and enthusiasts who pushed the technology forward. Afterwards, as the concept gained wider popularity, it attracted new talent and entrepreneurs leading to the advent of various blockchain projects and startups.

In 2014, major companies began to enter the space in earnest. Predominantly, the newcomers were those who identified the need for blockchain technology to fulfil their own ambitions. Additionally, corporations like Microsoft and corporate entities like R3 adopted the technology.

The 2017 bitcoin bull run followed by 2018 ICO mania caused interest in blockchain technology to reach an all-time high. Although it also brought many scam and money-grabbing projects to life, the subsequent Crypto Winter mostly cleared the space of non-viable ones.

In 2019, the blockchain market enjoyed a transformational maturation, wherein venture and institutional investors began to dominate.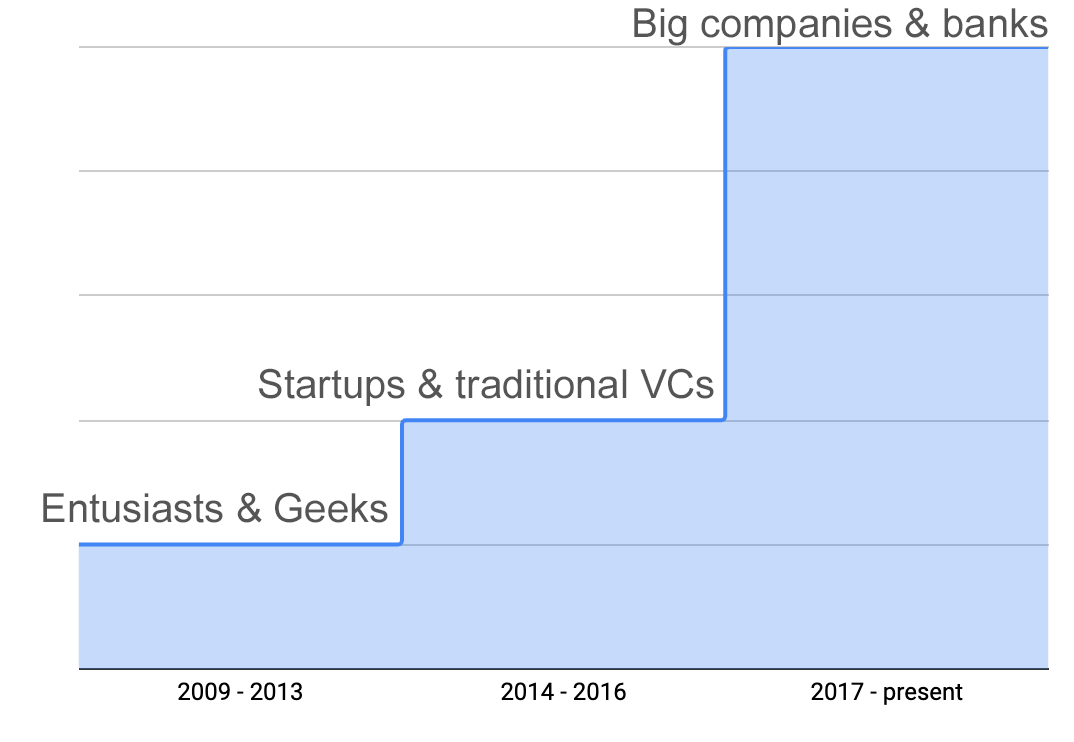 Fig. 1. Stages of blockchain technology adoption in terms of entities entering the market
Read Also: How to choose a blockchain company for your project?
Startup vs. Corporation

Needless to say, the culture of a major corporation is drastically different from that of a young startup.

First of all, in terms of the availability of resources. Even accounting for the crowdfunding model for new projects (ICO), a startup typically struggles continually for financial and other resources. And that's only part of the problem since a startup has a persistent need for proving its idea's real-life usefulness and business viability. On top of that, a typical startup completely or partially lacks established and/or properly functioning business processes. Thus the risk of a startup failing to survive the next year (or sometimes even the next month) is very real.

A major enterprise or corporation is entirely different, relying as it does upon well-tuned business processes as well as internal operations. It benefits from an established position in the market, a position which tends to provide at the very least steady cash flow and revenue. Such enterprises typically have fewer money/resource problems, encounter fewer risks, and are not locked in a ceaseless battle for survival (at least not a dramatic one – however any business risks falling victim to competition or the next radical economic, technological or market change).

At the same time, a corporation has mostly 'defensive' motivation. It seeks to remain relevant in an ever-changing world, to 'be in trend,' to 'maintain momentum' etc. It is usually slow and bulky, overly bureaucratized, characterized by a low level of dedication from employees and even senior managers. And those guys wear suits!

On the other hand, a startup possesses more than a simple desire to survive. It seeks to change the world as we know it, to do something that really matters. With great dedication and passion. That is the fundamental nature of a young, brave startup – the guys in jeans and t-shirts.
The choice

So, for engineers of service blockchain companies all over the world, there is a choice to be made: Who to work with? With whom to endure the hardships? Well, at least the best ones can really have that choice.

Before we get to the choice itself, let's consider what ultimately motivates those engineers.

Good engineers strive for the most effective application of their knowledge and expertise, the creation of disruptive world-changing products and services, and of course a broadening and deepening of their own experience by solving difficult technical tasks.

If you read the previous section carefully, you will know which of the two types of clients better embody these ambitions. And so you can give a pretty accurate answer to the fundamental question.
What choice did we make?

Naturally, working with a big corporation has its own pronounced benefits: it's stable, they have customers, they have money, they often know exactly what they need and what they don't need. And obviously it could be very profitable.

In contrast, working with a startup can be chaotic, problematic, less economically attractive and so forth. We could also be struggling with the same issues our client is struggling with due to the unpredictable and unstable nature of startups.

And yet, at Blaize we prefer t-shirts over suits.

Why? Because when you work with a startup blockchain development, the chances to transform the world we all live in are much higher than if you stick with a slow, bulky, dinosaur-like corporation.

We are the sort of people who hold dear the values startup founders espouse. We are the same breed as they are. So we want to cooperate with those whom we like and understand. With those whose vision we can help bring to reality. All of this is extremely important to us.

Since we deeply understand the nature of startups, we have certain principles when dealing with our clients. We don't want to take away key competencies that the core team is to deliver. We don't wish to distort founders' hypotheses or damage companies' unique DNA, which is integral for its future and for the value it seeks to bring to life.

Our aim is to help you, not a substitute for you in the things that are crucial for your business. And definitely not to cause you even more problems than you already have with your new enterprise. Rather, we aim to reduce their number and/or severity.

By the way, in previous article In-house vs Outsource we help startups to understand whether they need to turn to an outsource or look for some new players to join thier full-time team.