In-House vs. Outsource Blockchain Development
Companies around the globe find more and more benefits blockchain-based solutions can bring. Yet, right after you decide to turn into this cutting edge market, the important question occurs: what is better in-house vs outsource blockchain development team?
Additionally, this is not a dilemma just for young entrepreneurs or new-born startups. Well-established mid-sized or large companies face the very same problem: maintenance and support of existing blockchain-based solutions that will drive their product or service to the heights it deserves.
In this article, we answer the common questions regarding in-house blockchain development vs outsourcing and explain their differences. Also, we will tell what type of businesses may benefit or lose from each of those solutions. Therefore, in the end, you can make an informed decision about what is best for your in-house or outsourcing model for blockchain development.
Pros and cons of in-house blockchain developers
If you do not know who to entrust the blockchain development – in-house or outsourcing, check out the benefits of both. Primary, every blockchain entrepreneur has to understand that hiring a dedicated blockchain development team will not be an easy task. As far as there is a high demand for skilled developers in this field, you have to prepare yourself for a desperate struggle for the heart of a good blockchain engineer.
On the other hand, if you finally found one, it might bring more control to your hands and increase the effectiveness of task fulfillment. Let's take a closer look at the list of the advantages and disadvantages of this model.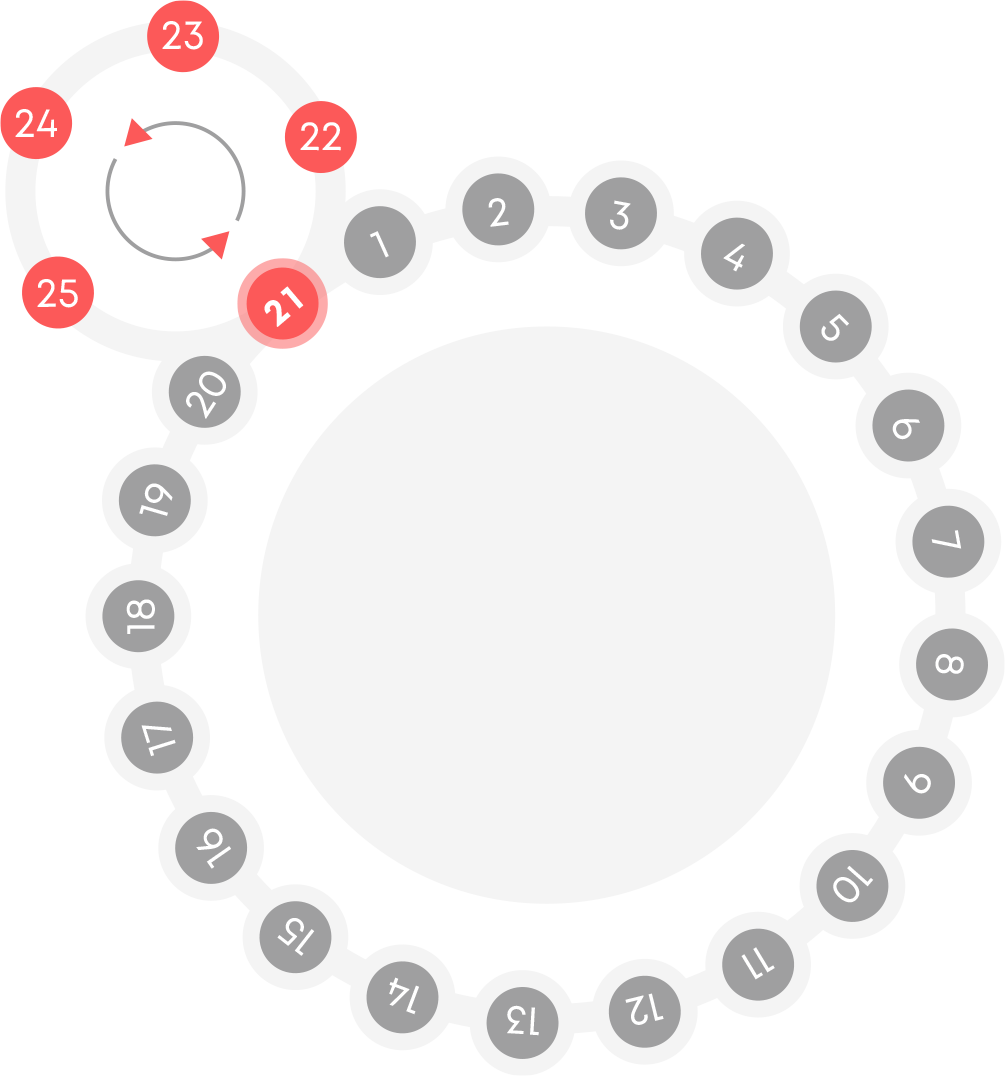 Pros of in-house team
Potentially better control over the process and final result
Since the whole work process happens within your own company and is executed by your own employees, you have the ability to exercise better control over both the team and the development itself. Additionally, you are able to receive and immediate feedback from your engineers and react to it in a faster and more effective way.
Higher expertise & specialization in a particular subject area
Since internal specialists constantly deal with the same or similar scope of problems, they learn to master their skills better, becoming highly-focused professionals in this particular field. This may raise the quality of their work and the development process drastically.
Technical independence of the project
Naturally your project gains more technical independence from external experts in the case of in-house development. All key technical competencies remain within the company. This impacts not only the development process itself, but also tech support capabilities of the core team as well as the possibility to maintain the product/service over time.
Immediate instructions and changes
As far as you are in charge of the team, you are able to give immediate feedback and instruction regarding the working process or project scope itself. In terms of additional changes it helps to insert or discuss them nearly as soon as they come to your mind.
Choosing an in-house blockchain development model may help to save time and costs in terms of further servicing and maintenance of your product. If the same team takes care of your product after the release, there is no need to spend time explaining what exactly is broken and how it should work.
Cons of in-house
Building an effective and fully capable in-house dev team requires significant investment of both money and organizational efforts. This is highly visible especially at the initial stages (including paying a large amount of related costs like equipment, insurance, premises, social packages, taxes, etc).
Plus you will be spending money even at times of forced or natural inactivity (since your own staff need to be paid anyway). In most cases, an in-house blockchain dev team will cost you much more than any alternative option.
Along with the high cost, there is even bigger risk of maintaining your own in-house devs. While your company has invested significant amounts of money into finding and raising internal specialists, they can always go away to the competition or to pursue their own projects, and your company will end up with needing to find and invest in new team members all over again.
This is the other side of the coin in terms of higher specialization of your staff. Your own team becomes more and more narrowly specialized, which is good in terms of performance and effectiveness in one particular field.
But in case external or internal fluctuations require any changes to be made, this could become a huge problem. As a result, your company lacks the needed flexibility and work speed that is so important to be on top of the market.
Additionally, there may be a need for extra expenses for external specialists to handle your request.
Looking for a good and experienced specialist in any area is a challenge while in blockchain you should triple the effort you put into it. Therefore, companies can spend months to years searching for skilled specialists.
Read Also: Our Top of The Blockchain Development Companies
Who benefits from the in-house blockchain development team?
To make a decision, you also need to understand who will benefit from in-house blockchain development and outsourcing. As you already know, if building an internal blockchain team, you have to be ready to get a lot out of your pockets along with committing much time for its building from the beginning. So the question is if the juice is worth the squeeze?
The answer depends on the purpose and, mainly, the size of the project you have in mind. Having an in-house blockchain development team is suitable in case of providing a huge product development.
For instance, Polkadot is a good example of such a project. This is a very scalable product that will interact with a list of existing networks and new, upcoming projects. Therefore, it will surely require constant maintenance by a huge team of developers.
Find out more about Polkadot ecosystem and its upcoming startups in this article.
However, we have to underline that today it is approximately impossible to find a skilled senior blockchain developer due to such points as a quite young market in terms of blockchain adoption and lack of expertise in several blockchain technologies.
Now it is more common to find a developer with a good command in one or maybe two languages and some basic knowledge of the blockchain. Yet, for the development of a good product that is not enough so you will probably need to wait for several months or even a year for building a really skilled blockchain in-house team.
Pros and cons of outsourcing blockchain development
We believe that outsourcing blockchain development is better than in-house. Outsourcing has already proven its usability and cost-effectiveness for businesses of different types and sizes. Especially when talking about narrow markets where it is often hard to find good specialists for required tasks.
Blockchain is a fastly developing niche, and there are still not enough developers having strong technical knowledge and a few years of experience under their belts. So if finding a blockchain specialist is a difficult task, turning to outsource is a very wise idea.
The reliable outsourcing blockchain company will have a team of experienced developers with a rich list of skills and can carry out various tasks. Let's take a closer look at the advantages of outsourcing blockchain development and its possible weaknesses.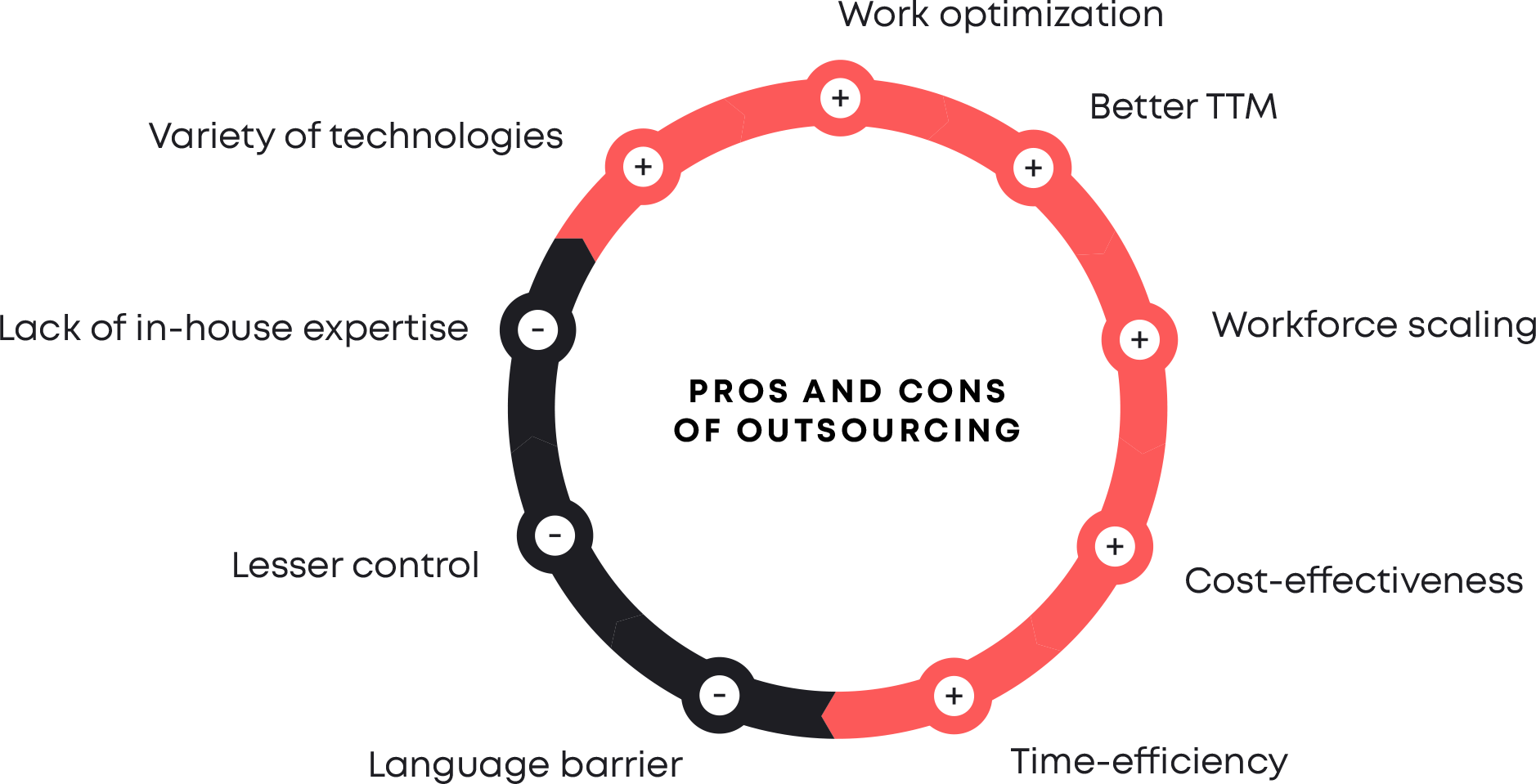 Pros of blockchain outsourcing:
Streamlined & optimized development processes
This is one of the most crucial advantages of outsourced development. All development and accompanied business processes are well established and properly set up by the outsourcing developers team. This is something a young company lacks by definition since it is a newly created company with no pre-set processes.
Better TTM (Time To Market) index
Another big and important advantage of hiring a blockchain outsourcing company. An outsourced agency typically offers a ready-to-go highly experienced team without the need to go through time-consuming staffing processes. This helps to save a significant amount of time and effort. Thus you are able to deliver your vision to the market much faster and with less hassle.
Easier & faster workforce scaling
In case a situation requires fast or temporary team expansion you do not have to worry about hiring additional specialists. Outsourcing companies usually have specialists with a rich list of capabilities and experience. So you can seamlessly transfer another additional task to them, which is not the case if you do it all by yourself and in-house.
This is probably one of the most essential benefits of outsourced development that is very important for any kind of business, from a small new born startup to a large enterprise.
Often external specialists will cost you significantly less than building your own in-house team. Potentially they will have more practical experience and your company can react faster and more effectively if an unusual problem arises.
Read Also: Blockchain and Artificial Intelligence
In addition to a higher TTM index, outsourcing your blockchain development will also save the time needed for hiring and management of the team. In terms of outsourcing, you get a tight-knit team that is ready to take on your task. When in the case of in-house you will have to invest your time into the tiring processes of headhunting.
A rich list of tools & technologies
An outsourcing company often deals with projects from different spheres. Therefore its programmers can offer a wider list of skills and technologies they specialize in. You can also check the company's portfolio and see a case similar to your project to be sure they know how to do it.
Cons of blockchain outsourcing:
Expertise stays outside the company
An obvious drawback of dev outsourcing is that technical expertise comes from outside the company and stays out there. However, this may be not that critical if engineering itself is not the main area where your enterprise innovates. Or you can just outsource less critical and more trivial parts of your tech to an external contractor while keeping the key components for your own in-house specialists.
Another issue that may occur while having an external team is a lack of direct communication with team members. This could lead to miscommunication and lesser transparency. This however could be fixed by choosing the right contractor and setting proper preliminary agreements on effective communication procedures, reporting, etc.
See the thorough guideline on How to Choose a Reliable Blockchain Outsourcing Company to know how to define the best from the rest
Many companies work with specialists from all around the globe. Despite the worldwide popularization of English and considering it as the first IT language, there is still a place for misunderstanding. This may lead to longer discussions during the discovery stage.
Why hire an outsourcing blockchain development company?
It is reasonable to outsource your blockchain project instead of opting for an in-house because of many factors. First of all, if you choose to outsource you will get a well-organized team with various skills and technologies in its portfolio.
Second of all, experience with similar projects is also a huge advantage of outsourcing. Moreover, vast experience helps to enhance team creativity and flexibility of approaches they offer. Thus, you will be able to deliver a competitive solution while saving your own production costs & time.
Hire a blockchain outsourcing is highly recommended:
Hybrid model: Outsourced + In-house Approach
Sometimes it's hard to say which is better outsourcing blockchain development or in-house. The blockchain market has grown a lot these days. Greater tools and newer technologies along with blockchain programming languages appear constantly. Therefore often one or a couple of specialists cannot cover all expected requests.
In this case, you will need the help of third-party specialists one way or another. Then, it might be reasonable to consider a hybrid model where to combine the workforce of your in-house developers with outsourced blockchain developers.
Want to start your blockchain development as soon as possible? You don't have to wait for your in-house programmers to reach the needed level. Start your project now while outsourcing a part of work to Blaize! Due to smooth cooperation, your project will grow along with the skill level of your in-house developers.
This approach will create a favorable environment for more efficient planning and analysis and provide the ability to choose which tasks to delegate to which team, so you can fine-tune your processes in the most effective way while optimizing the costs.
As one of the main disadvantages of this model, there may be potential difficulties in the connection between your employees and outsourced developers (language barrier, time zone, cultural predispositions).
Conclusion
The larger is the market you enter, the more qualifications you need to keep up with competitors and deliver more cost-effective solutions. In-House vs outsource blockchain development is an important decision to make at the very beginning.
In terms of blockchain, technology development is highly rapid, so you more often have to be fast to catch a break. In such cases, hiring an outsourcing company is the best solution. It will be suitable for any dApp development, DEX, staking platform, smart contract creation, or custom blockchain development for enterprise solutions.
Looking for solid blockchain outsourcing? See what our clients say and contact us to see for yourself!
We recommend considering an in-house approach in terms of building a very scalable project which is entirely dependent on the blockchain and requires ongoing maintenance purposes. Any of existing chains like Ethereum, Polkadot, Near, EOS, etc., can be an example for such.
However, due to the high risks that come with adopting an in-house model many entrepreneurs often see it reasonable to outsource a blockchain ecosystem development to reduce costs & time. You can see one of our successful use cases in terms of implementing the whole blockchain ecosystem.
In Blaize, we have been building our team since 2016 so now we can surely claim vast experience and knowledge in the blockchain field. It is worth mentioning that the ability to work on several projects from one field yet concentrate on different subjects is one of the biggest assets of our outsourcing team.
For instance, working on a couple of different DeFi projects gives us an opportunity to see and find even better solutions on how to optimize and enhance future projects. This is the biggest advantage of outsourcing blockchain development vs in-house.
If you want to get the best blockchain-based solution and you want to get it fast then feel free to contact Blaize for further advice and help in this regard.
We have deep knowledge and experience that we will readily share with you for our mutual benefit.
Frequently Asked Questions
What risks arise when outsourcing blockchain development?
The main risk of outsourcing your blockchain development process is hiring the wrong contractors. An inexperienced team can do more harm than good, compromising your protocol's security and your users' data.
That is why it is crucial to hire a highly expertised team with a proven track record and solid reputation. So if you are looking to outsource your blockchain development, hire Blaize – our experts have over 5 years of experience and 70+ successful projects in the portfolio.
How much does it cost to hire outsourced blockchain developers?
The final cost of the outsourced blockchain development depends on many factors, including the complexity of the project, the scope of work, and different tech specs.
If you'd like to find out the approximate cost of your product development, contact our team, and we'll calculate the price for you.
How to control the blockchain development process when outsourcing?
Here at Blaize, we make sure that the client has a full understanding of what's going on with the development side at any time. We have a well-established cooperation process, which allows you to have full control while delegating the mundane project management and everyday operations.
Are in-house blockchain developers better than an outsourced team?
Not necessarily. Usually, outsourced teams have a deeper understanding of the subject due to their narrow expertise and permanent focus on one industry.
For instance, the Blaize team only works with blockchain-related projects, which means that we have excelled in the necessary programming languages and have more knowledge of specific use cases and industry best practices.