How to Choose a Reliable Blockchain Company for Your Project?
Blockchain technology is getting more and more traction. The market shows that companies want to invest in blockchain solutions development for their business. Hence, choosing a reliable blockchain outsourcing company for the project becomes a challenging task.
Along with blockchain popularization, a lot of outsourcing companies started to add blockchain development services on the list among other technologies and offer it to clients. Though, learning one additional programming language or applying a new skill is not enough to add blockchain to the list of your competencies.
In this article, we will tell the main points to focus on how to choose the best blockchain development company and startup blockchain development for your next project.
Where to start?
If you want to find blockchain developers for your next project and have never dealt with product outsourcing we recommend specifying some fundamental basics of your project before initiation or during the discovery phase. Often, those are answers to the main purpose of your project, regarding:
the main idea of your project;
the problem your project solves;
why it is better from the existing solutions;
any suggestions for the preferable concept and blockchain frameworks.
To find and hire a real blockchain guru with solid tech skills, we recommend answering those questions even before arranging the first meeting. If specified by yourself, it will help you to know exactly what you are looking for and narrow the companies' list.
Asking yourself what is better: outsource your project to experienced blockchain experts or hire your own in-house team? Find some useful recommendations in this article
The selection of an accurate development framework is a distinctive and very important part of every blockchain-based project. This primary deals with the project's purpose for hiring a blockchain company.
In order to understand which type of blockchain development is the most suitable for implementing your idea, let's look deeper into the main approaches to it.
By the way, have you ever thought about GameFi development? Join the cutting edge of gaming technology and elevate your project to new heights with our GameFi development team. Don't miss out on the opportunity to work with the best in the business and bring your gaming ideas to life. Contact us today to take the first step towards your dream project.
Approaches To Blockchain Project Development
There are two main perspectives we can define in terms of blockchain-based project development. They are crucial while choosing the right blockchain development company because each approach requires a different list of developer tools and skills the outsource team should have.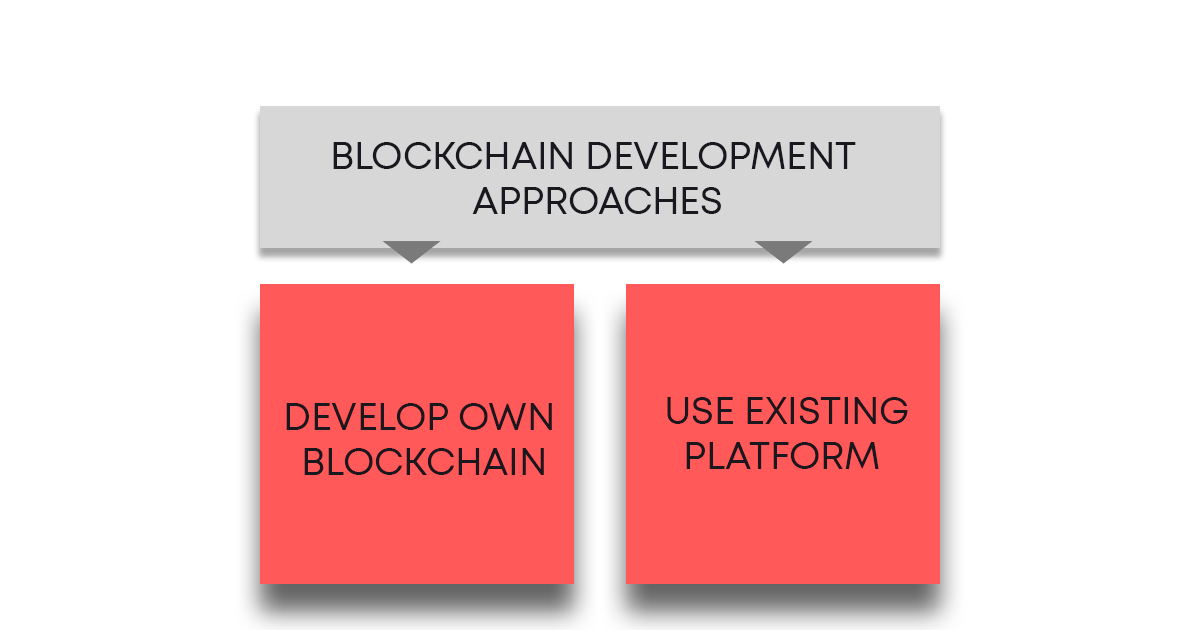 Using Existing Platform
The first option is to use one of the existing blockchain systems in order to solve a problem, for example, write a smart contract on Solidity or make a comparison cycle on Hyperledger. In order to fulfill such a project, developers need to know a particular programming language and have experience in implementing similar projects.
In addition, a developer needs to understand how the platform works, its distinctive features and limitations. There are many nuances which in case of disregard, may lead to the process slowing and higher costs.
Suitable for: small and medium-size tasks which require further integration into already existing projects.
Blockchain from scratch
The second approach means creating the entire blockchain roughly from scratch. This type is usually used in case of creating a "wow project", which brings new ideas or alternative solutions to certain industries. In this case, a developer does not need to have explicit knowledge of new languages, the good command of C++ or Python will be enough.
Despite this, the second approach requires more knowledge and experience in building blockchain logic and architecture, and this is one of the most important things to pay attention to. Frequently, these types of projects provide a money or assets circulation so one small consensus mistake or false node synchronization might be worth millions.
Suitable for: big and scalable project, or enterprise blockchain that needs a custom development of a unique blockchain ecosystem.
To help you understand which blockchain framework is better for your project, check out our deep analysis of Best Blockchain Development Platforms
Specifying your project needs and understanding which approach is a good fit considerably narrows the list of possible future vendors and saves you a lot of time.
Basic Criteria To concentrate
After understanding and writing the core insights of your project you can create a list of vendors to contact and discuss your idea. For that purpose, we prepared a list of what to ask and what to focus on while choosing a blockchain outsourcing company for your project in 2022.
Read Also: How Blockchain and AI Convergence Empower Your Business.
Look for competency
It is impossible to read the book "How blockchain works" and get the system as there are a number of nuances that can be understood just after gathering considerable experience.
Do not hesitate to ask for relevant documentation in order to ensure a company has the required skills and knowledge.
One of the best ways to check an IT company activity on the market is to ask for a link to Github, where you will find all the projects description. Pay attention to the Github authors and the project release dates.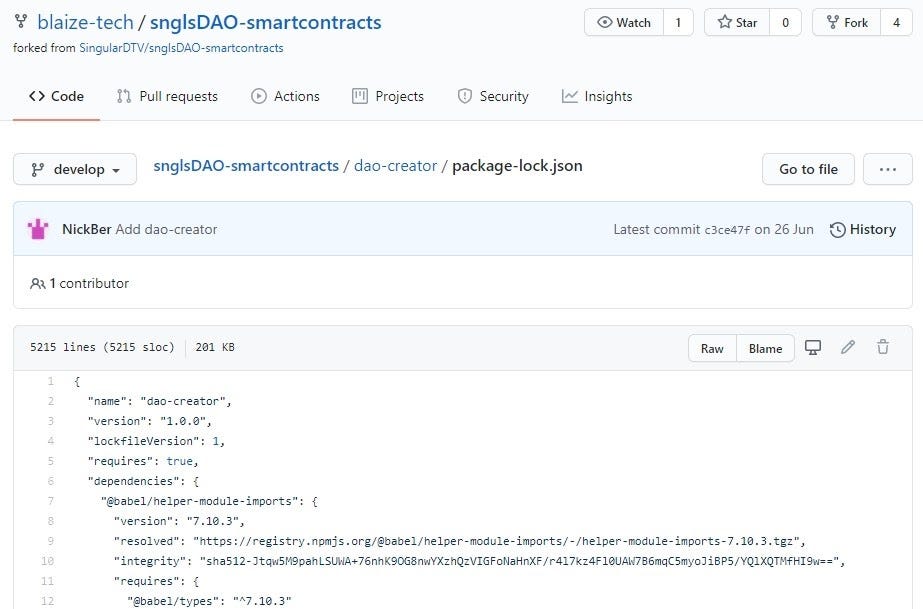 You can also ask for a call with a team's engineers directly, in order to clarify any technology uncertainties. This is your money and you have to know whom you pay it and for what. 
For those, who do not want to dive into code and strongly technical descriptions, we recommend checking the company's portfolio on the main website. Vendors often put the most scalable and meaningful cases on this list. Therefore, while looking for a company's portfolio you can additionally check the scale this particular blockchain company deals with. It will also help you find the best blockchain developer for your project.
Evaluate team creativity and approach flexibility
After understanding and writing the core insights of your project idea, send this list to the chosen company. Do this in advance to give them some time to prepare a thorough offer for you. Ask as many questions as you can to ensure the technical engineers read your requirements and understand every small detail.
During the communication process, evaluate how many solutions are offered to you. Sometimes blockchain development companies prepare a few options in order to offer a various range of cost estimation, but this is another thing. Despite ensuring blockchain company's pricing flexibility, try to check for creativity and approach versatility.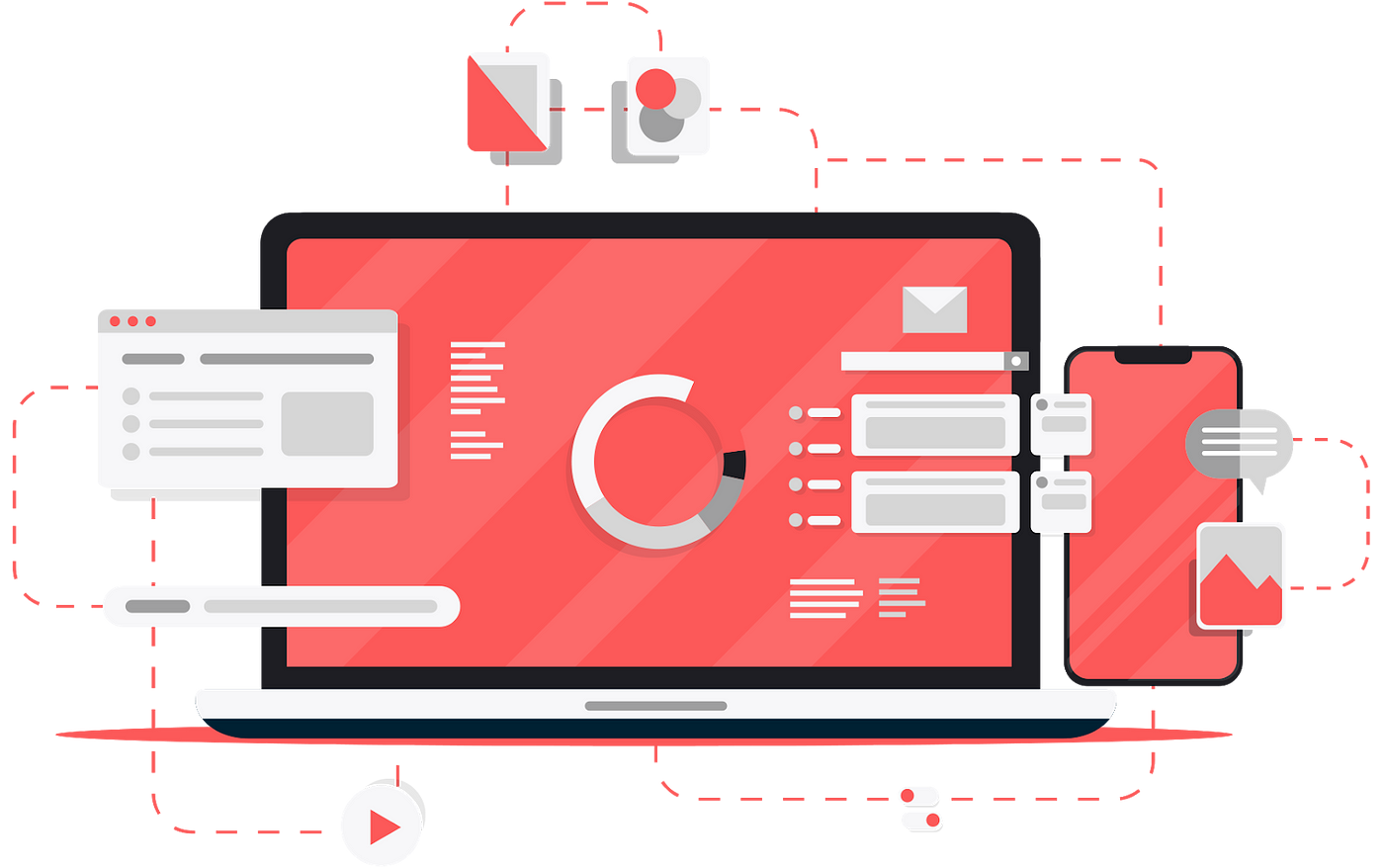 To offer flexible approaches means to look for alternative methods of problem-solving at equal price and quality. This feature will be an advantage while dealing with big and scalable projects and become a huge plus in case of implementing a "wow" project. 
The blockchain dev team for your project might face some difficulties or pitfalls during the implementation process so obtaining such a skill will be a huge plus.
Do ask for a fixed price
There are three main types of budgeting IT companies usually have on their list.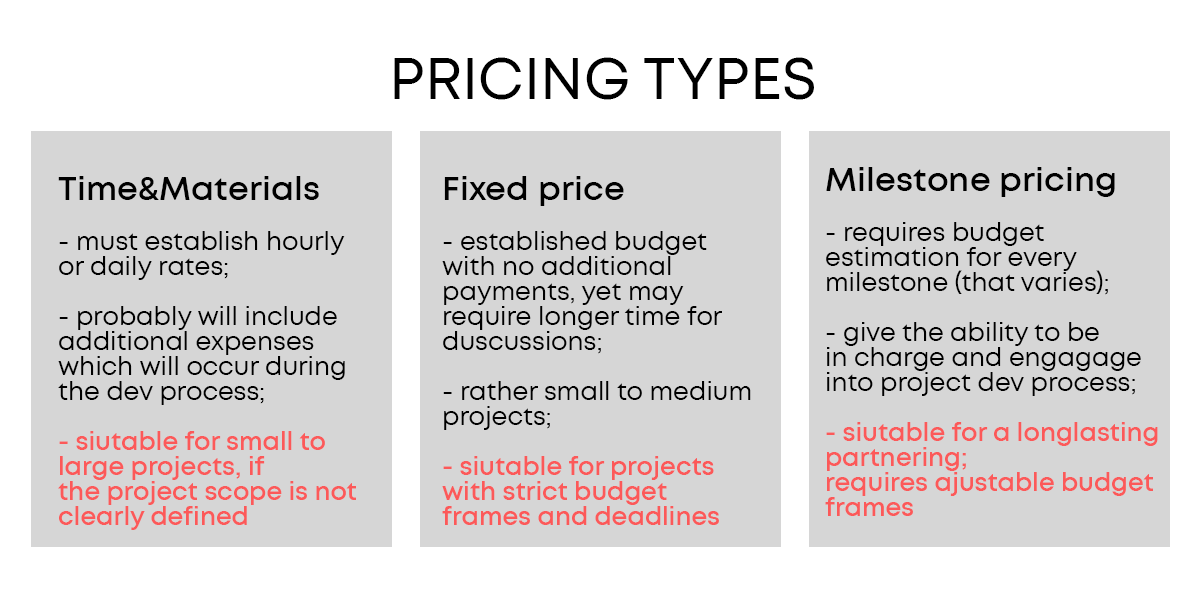 When having a well-prepared technical task in your hands, ask the company for a fixed price cost estimation even if you do not feel like it fits your project. Often companies do not offer this kind of budgeting hiding their ignorance of clear time frames and lack of relevant experience behind thus.
Blaize Recommendation: Even if you have agreed on an hourly payment type of budget, do not be afraid to ask for a fixed price estimation in addition, because it also helps to check the level of conductor experience. The preparation of such estimation should entail no difficulties if you have a prepared technical task on your part.
Communicate with the dev team directly
It would be great just to pay money and relax while waiting for a link to the repository of a finished product. Unfortunately, it works only as an advertising slogan rather than real practice.
Communication with the company's project manager might not be enough to get deeper insights of the development process. Therefore, we recommend checking the willingness of the dev team to carry out daily calls.
If the team meets your expectations and you have agreed on the final proposal, do not be so quick to move this task to the "done" section in Trello and wait for the product launch.
We recommend you to stay in control of the future development processes and schedule work so that the development team is focused on your project solely. If there is not enough time to do it yourself, hire a product manager who will take care of this and represent your interests in the project.
Want to hire a solid blockchain development team? Connect with our CEO to see what we can offer!
Check for C-level authority and activity in communities
C-level (or C-Suite) authorities represent the high-ranked executives in a company. The amount of C-level executives varies from company to company and depends mainly on its size and scale. Accordingly, large outsourcing blockchain subcontractors will have a bigger amount of highly-ranked authorities to distribute the dynamic workflow.
The other thing to take into consideration is the company activities in social media or publications in well-known media communities. As simple as it is, checking a company's account in popular media may give you a lot of answers and help to choose reliable blockchain developers.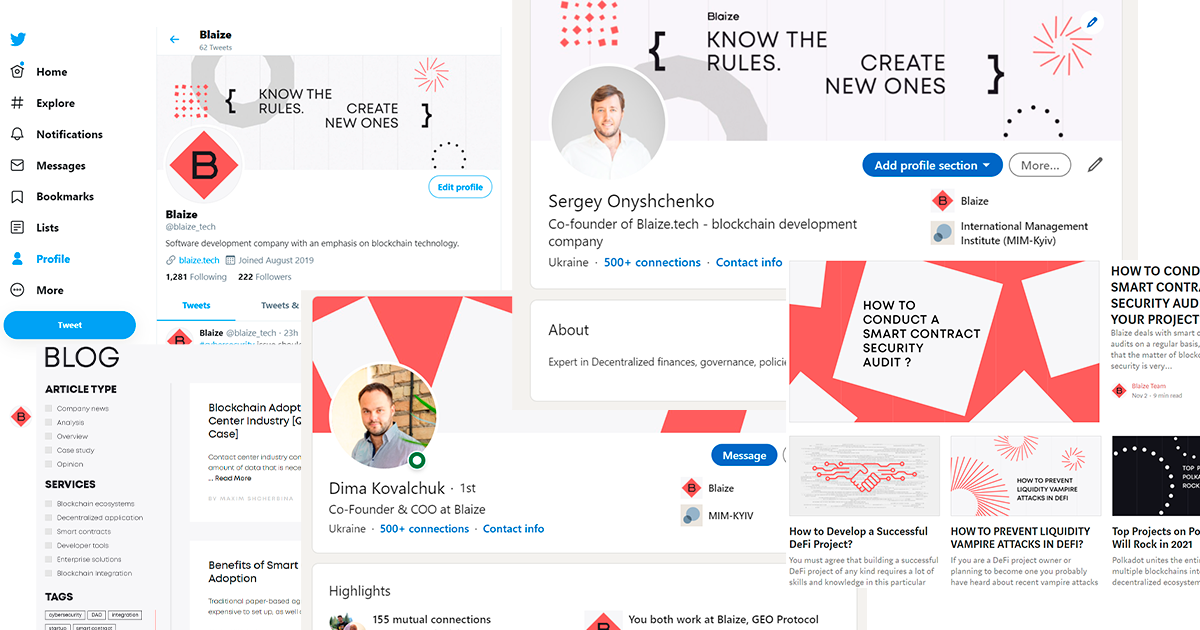 Check Blaize media profiles as an example: 
Twitter Facebook LinkedIn Medium
See how Blaize was awarded as the best blockchain developer by Clutch and GoodFirms.
What are the main alarms of poor blockchain outsourcing?
We have just told you what to look for while hiring a blockchain development team. Yet, to be able to distinguish a reliable blockchain vendor we recommend looking at a few important features of a poor blockchain outsourcing company.
Today, you can find a rich list of companies that claim to have a dedicated and experienced team of blockchain engineers. Yet, unfortunately, this knowledge may be often exaggerated in some ways.
Very little technical requirements preparation
We often face the situation where a customer, firstly, contacts business analysts (or) consultants in order to discuss his idea and turn it into a technical requirement (or alternatively fulfills this through his employees).
As a result, the project idea is presented in PowerPoint with numerous visual elements, moving arrows and gears spins. It looks good, so he pays money for this and thinks that everything is fine. Typically, 80% of such "technical requirements" are revised and redone by the actual dev team while preparing a technical task for the onboarding process.

Unfortunately, in some cases, the outsource contractors can just follow what is written in the initial technical requirements. This is the worst they can do because a customer will spend money on an inoperable product. Therefore, make sure your dev team prepares a technical task of high quality and makes a thorough business analysis to eliminate tech collisions.
An experienced team of blockchain developers is capable of preparing a technical requirement for you while having just your idea as a base. Turning such a technical requirement into a tech task will not be a problem if prepared by the same team. Thus, you will save a considerable amount of time.
So feel free to come just with the idea to outsource, but evaluate the competency the company has to accomplish such a task.
Claiming too much experience
Next common example of an unsuitable company is when the company declares more than 7 or 10 years of blockchain development experience. Such a long practice in the field is nearly impossible because it was really hard to imagine the application of blockchain technology in any industry until the beginning of Ethereum.
Well, before 2015 blockchain had not been used anywhere except for cryptocurrencies while its adaptation seemed really questionable and unrealistic. Therefore, if a certain company claims it has 7 or even 10 years of experience in blockchain development ask for Satoshi Nakamoto to be in charge of your project. The real boom and breakthrough in blockchain development began only in 2017-18.
Blockchain as one among others
Another distinctive feature of blockchain outsourcing is that many companies came into this area while already providing other types of IT services. Dealing with classic development, back-end, or even front-end solutions, they simply added blockchain to the list of technologies they offer when the blockchain "hype" started in 2018.
Practically, this neither fits the first nor the second blockchain development approach we described above. Mainly because it is impossible to quickly learn high-quality programming or a list of new languages. The same as there is a very low possibility of gaining vast experience in proper blockchain architecture building within a short period of time.
Hence, If you need a blockchain, go to a blockchain company.
Why Blaize is a dedicated blockchain development firm for hire?
In Blaize, we provide blockchain development as a prior and basically deal with decentralized applications building an entire blockchain ecosystem development from scratch.
As a solid blockchain outsourcing firm for projects in 2022-2023, Blaize also deals with smart contracts deployment, crypto wallet design, and integration. We have vast practical experience in the field and have been on the market for more than 4 years.
To make sure of our competency, see our portfolio and Blaize Github profile. Find out more about our core values and working approaches in the About Us section.
Clients' satisfaction is one of the main goals we establish for any cooperation. See what they say about us:
Go see for yourself! Let's contact and discuss your idea.
Conclusion
In terms of advertisement, we can write that in Blaize we get 10 out of 10 in every criteria, but it will not be true. We strive to develop the best for our customers and thus constantly grow and improve our skills.
Any project is a synergy of client's ideas and competencies of an outsource company. You cannot find the perfect company, but you can find the perfect combination of both participants, then the project will be successful. We hope our tips will help you in this search.